Press Release
O'Connor, St. Louise RNs Approve Strike Over Unresolved Patient Care Issues in Planned Sale to County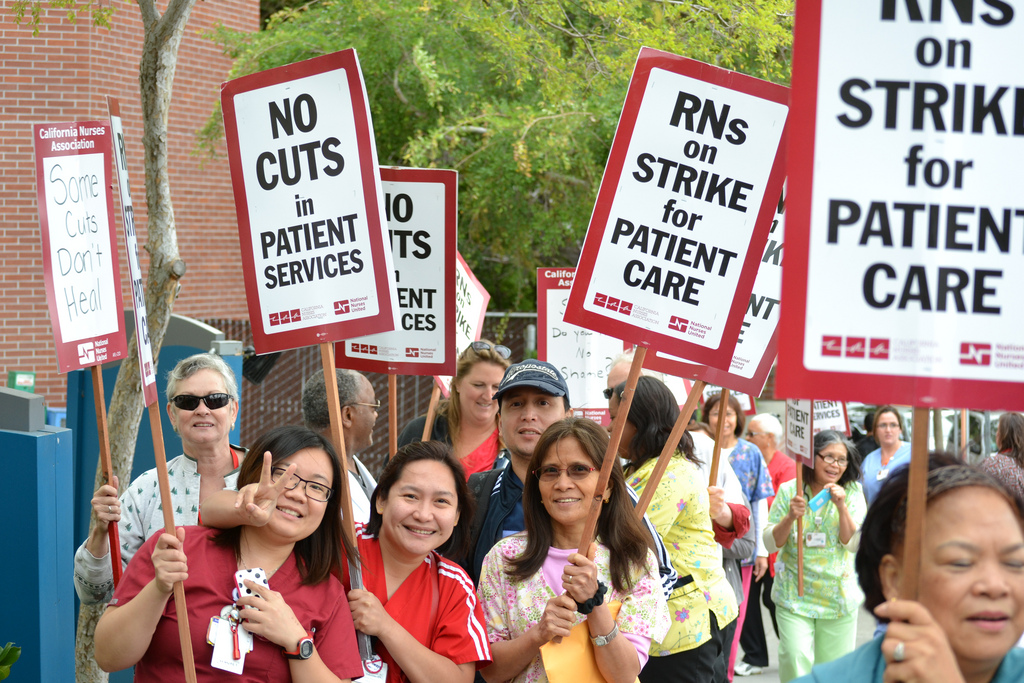 Santa Clara County must ensure ongoing services, protect public health, and recognize our elected union, say nurses
In weekend voting, registered nurses from O'Connor Hospital in San Jose and St. Louise Regional Hospital in Gilroy approved a strike—if necessary—over unresolved patient care issues and unfair labor practices involving the planned sale of the two facilities to Santa Clara County, the California Nurses Association (CNA) announced today.
If RNs deem a strike necessary, a 10-day notice would be issued by nurses, ahead of a potential strike date.
"Nurses take an oath of patient advocacy, so we absolutely support the expansion of public health. But for the county's purchase of St. Louise and O'Connor to further the cause of public health it must be done lawfully and in cooperation with nurses and the community," said Chun-Siew Chan, a Mother Baby Unit registered nurse at O'Connor Hospital. "Right now, nurses have concerns that the County is failing to make necessary commitments, and if it comes down to striking to make our voices heard, then we will always stand up for our patients, our colleagues and our community."
Santa Clara County is set to take over the two facilities after former owner Verity Health Care System (Verity) filed Chapter 11 bankruptcy. In mid-January, California Attorney General (AG) Xavier Becerra appealed to the federal bankruptcy court to block the sale of the hospitals to Santa Clara County, citing a failure on the part of the County to commit to conditions former California AG Kamala Harris had set on the 2015 sale of the facilities to what is now known as Verity.
In late-January, the federal bankruptcy court green-lit the sale, but nurses say critical issues remain unresolved. According to RNs, ongoing concerns, spurring the strike vote, include:
Lack of commitment by the County to ensure essential services will be maintained
Nurses say it's imperative, in the transfer, that these facilities remain open and continue to provide essential patient care services for local communities. In 2015, Harris set the condition that the facilities must continue to operate as acute care hospitals and offer emergency services for a minimum of 10 years. Santa Clara County has not made that same commitment.
In fact, the county has already rescinded offers of employment made to at least six emergency room nurses at O'Connor, cutting thousands of hours of patient care and increasing wait times.   
"O'Connor and Valley Medical Center, also operated by the County, are not far apart. What is in place now to prevent the County from closing one of the two emergency departments?" said Sharon Erlich, an Emergency Room RN and Chief Nurse Rep. at O'Connor Hospital. "It's these kinds of questions that really concern us, because doing this sale as quickly as possible is not more important than acting within the law and making sure that the County is held to the high operational standard that patients deserve—and that two attorneys general have tried to enforce for our communities."
Lack of commitment to maintain working conditions, wages to retain experienced RNs
According to nurses, other facilities operated by the County experience high RN turnover, due to wages and staffing levels not on par with levels at St. Louise and O'Connor under operation by Verity. RNs say they are standing up to ensure retention of experienced nurses, rather than the sale causing nurses to leave for jobs elsewhere.
The nurses' concerns are amplified given that the County has failed to recognize CNA as the nurses' chosen bargaining representative and is instead bargaining their terms and conditions with a union the nurses never elected.  On behalf of the nurses, CNA has filed an unfair labor practice charge with the Public Employment Relations Board to protest the County's actions.   

"As nurses, we have dedicated our lives to caring for our communities. We want to be at the bedside with our patients. Voting to authorize a strike was not our first choice. RNs at O'Connor and St. Louise indicated in writing want to remain CNA nurses and not be forced to work under another union's contract—one we didn't vote for," said Rich Guerra, an Emergency Department RN at St. Louise Regional Hospital.
"Without guaranteeing protection of working conditions, salaries, and job duties for St. Louise and O'Connor nurses, the County risks the loss of longtime, experienced nurses who understand best how to care for patients in their communities. And that could leave the County with less capacity to care for patients than the County and Verity jointly have today," said Christine Dixon, a Recovery Room RN at St Louise Regional Hospital. "We don't want to see that happen."  
Putting retirement benefits at risk, threatening increase in elderly poor
The county's purchase is also putting the retirement security of hundreds of Santa Clara County residents at risk, say nurses. 
"In previous sale agreements for these hospitals, pension funding was guaranteed, but the County's purchase—by leaving the pension funds vulnerable in bankruptcy proceedings that prioritize bank lenders' claims over retirees'—risks expanding the ranks of the elderly poor," said Vianney Ebora, an Intensive Care Unite RN at O'Connor.  "This is unnecessary; it goes against the mission of public health."
Nurses say they are committed to keeping the hospitals open—just not at the expense of patient care and nurse working conditions.

"Nurses will always stand up for the patients of Santa Clara County, and we expect the County itself to do the same," said Monica Ramos, a Maternal Child Health RN at St. Louise Regional Hospital.
California Nurses Association represents over 100,000 registered nurses statewide, as part of National Nurses United, the largest union of registered nurses in the country.