Press Release
Oak Hill RNs to Rally Friday to Voice Alarm About Unsafe Staffing Issues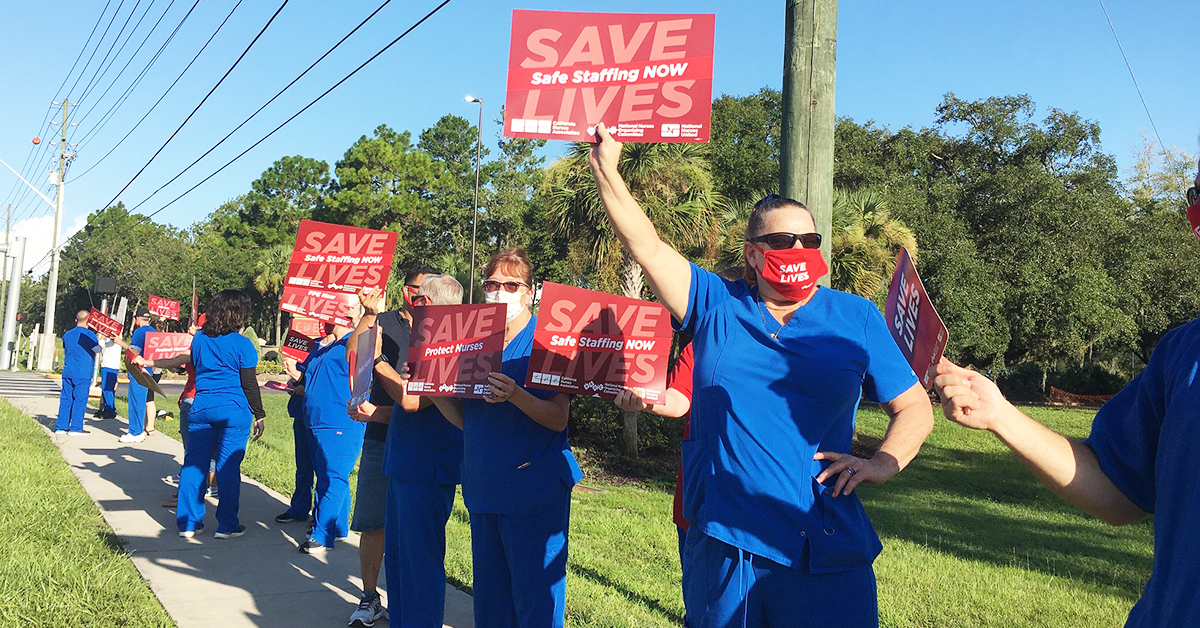 Registered nurses at HCA's Oak Hill Hospital will rally on Friday, March 19, outside the Brooksville, Fla., facility to call public attention to short-staffing levels that they warn puts patients at risk, especially in the hospital's emergency room and in intensive care units.
What:  Oak Hill RNs to hold public action
When:  Friday, March 19, 7:30 a.m. to 9 a.m.
Where:  Oak Hill Hospital, 11375 Cortez Blvd., Brooksville, Fla. (On sidewalk, in front of hospital entrance)
"Inadequate staffing is dangerous for our patients. They deserve the best care we can provide during their stay while hospitalized," said Russell Forcier, RN.
The RNs say staffing is so inadequate that they are expected to care for five to six patients at a time in the ER, and three patients at a time who are in intensive care. Such assignments, nurses say, leaves far too little time to provide the proper individualized care each patient needs.
Patient assignments are also inadequate in the general medical units. Nurses from the hospital's labor and delivery unit are being assigned to work in hospital areas for which they do not have the proper clinical expertise and experience, which is also unsafe.
In addition, there are continuing issues with inconsistent provision of single-use N95 respiratory masks with the Covid-19 pandemic far from over.
At Friday's action, the nurses will hold bags of money with messaging about the need to put safe patient care over hospital profit margins and budget goals.  
"The nurses are drowning," said Mary Dechari, RN. "We don't have enough staff, the patient ratios are unsafe, patients are being placed in every nook and corner without nurses being assigned to them, and the rooms are dirty. Management hardly seems to care anymore."
"We are being told that we don't have a nursing retention problem. But nurses are leaving because they are tired and feel their licenses are on the line.  We know that our patients deserve better, and we are unable to 'Reimagine Care'. This is sad and unsafe," Dechari added.
HCA is responsible, said Mike Guggino, RN. 
"HCA cares more about their shareholders. The patients should come first," Guggino said.