Press Release
Nurses' YUGE, Red #BernieBus To Visit Portland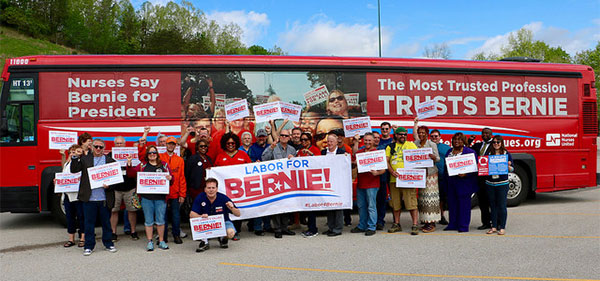 RNs, ILWU Join Rep. Tulsi Gabbard, Sen. Jeff Merkley in Support of Bernie
National Nurses United members, who have traveled from coast to coast to campaign for Sen. Bernie Sanders on a bright red #BernieBus, will make stops in Portland on Tuesday, May 3.
"We're looking forward to being in the Rose City; the passion for Bernie's campaign is absolutely overwhelming here," said NNU Co-President Deborah Burger, RN. "The issues championed by Bernie Sanders have united so many people, and we're thrilled that in Portland, nurses will be coming together with workers, students and political leaders to show that there is massive support for meaningful change in this country."
NNU members have been talking to voters since last fall, recently in Pennsylvania, Maryland, West Virginia, and Kentucky about why they support Sen. Sanders.
Burger, along with NNU RN Amy Erb, will be speaking at a Portland rally in support of Bernie, featuring US Senator Jeff Merkley, Congresswoman Tulsi Gabbard, members of the International Longshore Workers Union (ILWU) and other special guests. After the rally, the Bernie Bus will head to Portland State University, where nurses will have a chance to speak with students about Bernie's commitment to free education at all public colleges and universities.
#BernieBus Stops for Tuesday, May 3
Morning: Portland Rally for Bernie Sanders, The Park Blocks between Salmon and Main

Afternoon: Portland State University

The #BernieBus nurses have been gearing up for the remainder of the primary campaign season, and are already busy campaigning in California, the state with the most delegates, which votes June 7. In fact, the #BernieBus will be heading to California after the Portland stops.
"Nurses know Americans are struggling. Many of our patients can't afford their co-pays, premiums and deductibles, so they are unable to access preventative care," said Erb. "In Multnomah County, according to a recent census report, 18 percent of people are living in poverty—and 17 percent still have no health insurance at all. Bernie believes healthcare is a right, not a privilege, and that's just one of the many reasons we support his campaign to heal this country."
As the bus tour has traversed America, nurses have emphasized Sanders' commitment to guaranteed healthcare for all, assuring equal educational opportunity for all by eliminating public college tuition to drive down student debt, raising the minimum wage to $15 an hour and creating millions of good paying jobs by rebuilding the nation's crumbling infrastructure, and broad criminal justice reform, as well as opposition to unfair trade pacts.
"Bernie Sanders shares nurses' values of caring, compassion and community," said Burger. "We strongly believe his campaign is the one that will ignite the kind of positive change we've needed for so long. Nurses are behind Bernie Sanders—all the way."
National Nurses United is the largest union of nurses in the country, with 186,000 members in 50 states—and was the first national union to endorse Sanders, in August, 2015.
For more information on where the bus will be stopping in Portland, call Liz Jacobs at 510-435-7674.