Press Release
Nurses Welcome New OSHA Federal Workplace Standard as "Important Step Forward for Safer Health Care Settings"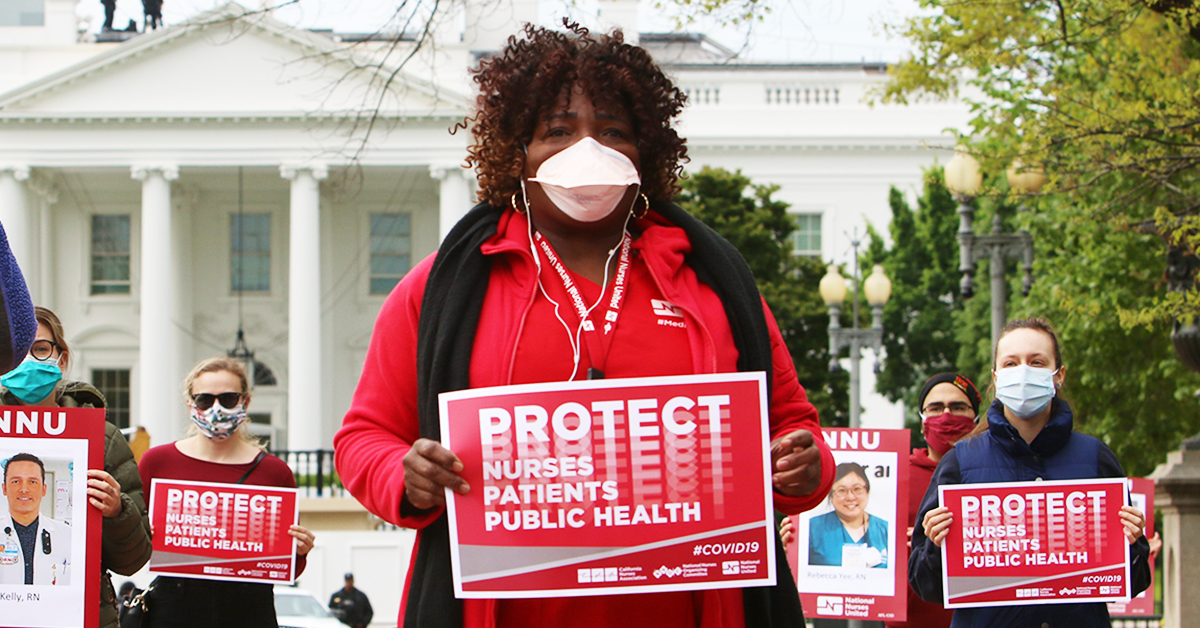 National Nurses United today welcomed the new Occupational Safety and Health Administration (OSHA) Emergency Temporary Standard (ETS) on Emerging Infectious Diseases to ensure safe workplaces for nurses and other frontline health care workers as "an important step forward that will contribute to safer health care settings for workers, patients, and communities."
"After more than a year of the Trump administration's refusal to require employers to provide enhanced infection control protections in health care settings in the face of the worst pandemic in a century, this is a monumental message that they will be held to account," said NNU President Zenei Triunfo-Cortez, RN. "The ETS means new, mandatory requirements for employers, with penalties for those who violate those requirements," she noted.
Upon preliminary review of the lengthy new temporary standard, NNU said there are significant requirements that will protect nurses and other health care workers and patients, and some areas that can still be strengthened as OSHA conducts updates.
Concurrently, NNU joined with other labor and health care activists in encouraging additional protections in other settings. "All workers, everyone, deserve to be safe — on the job, in their homes, and in their communities," said NNU Executive Director Bonnie Castillo, RN.
In the health care arena, especially in acute-care hospitals, "this standard is testimony to the advocacy of registered nurses and our allies across the country who have fought with employers to demand safer workplaces, from optimal personal protective equipment, to stronger infection control measures, to corporate accountability from employers," said Castillo.
"We now have an additional legal sanction for employers who continue to put their profits and budget goals over worker and patient safety. And we know that the test of the standard is dependent on our ability to enforce it to make sure our employers comply," Castillo said.
Castillo noted that this is the first OSHA emergency temporary standard since 1983, was promulgated over the extensive opposition of and lobbying by the hospital industry and other corporate interests, and lays the groundwork for adoption of broad, permanent OSHA standards on infectious diseases for future epidemics. "We appreciate the strong support of Labor Secretary Marty Walsh, and many supporters in Congress, especially Rep. Bobby Scott, chair of the House Committee on Education and Labor," she added.
Among the important new requirements included in the ETS:
All health care employers must have written infection control safety and implementation plans, developed in consultation with non-management employees and their representatives.
A major step forward in requirements for lifesaving respiratory protection against aerosol transmission of the virus for nurses and other frontline health care workers caring for suspected and confirmed Covid-19 patients.
New requirements on notification of health care employees exposed to confirmed Covid-19 patients in the workplace, and to provide pay and benefits for those who must take time off as a result of infection.
Mandates on screening, mask wearing, physical distancing, and barriers in the workplace.
NNU will continue to review the full ETS and encourage measures to strengthen its provisions, added Triunfo-Cortez.
Examples of areas for improvement include:
Moving away from reliance on screening through self-response from patients and employees as to whether they are experiencing Covid-19 symptoms, rather than on testing, for a disease in which more than half of transmissions are known to be caused by people who are asymptomatic.
Stronger provisions on aerosolized transmission and the risk of infection, and on ventilation requirements within health care facilities.
Provisions for full isolation of Covid-19 patients from non-Covid-19 patients, such as establishing dedicated Covid units.
Ensuring a multiple-measures approach where vaccines are one important measure in addition to mask wearing, physical distancing, ventilation, PPE, and other measures to protect nurses, other health care workers, and their patients.
"Still, this ETS is a major victory for those who have worked so hard to achieve this recognition of the terrible toll on nurses and other health care workers, against the malfeasance and resistance of employers and many elected officials," said Castillo.
"This is still a dangerous and deadly pandemic. People in the United States continue to be infected and die. And nurses and other frontline caregivers remain in danger, especially with the pullback in safety measures across the country that will likely only increase the number of infections, hospitalizations, and deaths," said Triunfo-Cortez.
As of this week, 405 RNs have died of Covid-19, among 3,908 health care worker deaths overall, according to NNU tracking data. Since the data has not been collected in many places, a full accounting may never be known. Nearly 900,000 health care workers have been infected, an increase of more than 3,000 from the week before.
National Nurses United is the nation's largest and fastest-growing union and professional association of registered nurses, with more than 175,000 members nationwide.