Press Release
Nurses Welcome Court Ruling that Kansas RNs Have Rights To Critical Information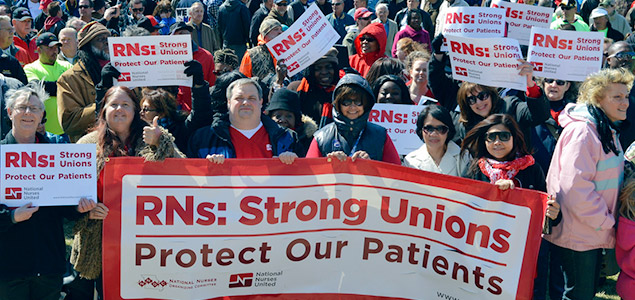 National Nurses United today welcomed key elements of a U.S. Circuit District Court decision that registered nurses in Kansas and their union have rights to information about punitive hospital investigations that could potentially lead to nurses losing their job, and perhaps their future livelihood for advocating for patients.
Under a Kansas state law, hospitals are required to form peer review committees to examine alleged care infractions by RNs and report violations to the state RN licensing agency, which could be a prelude to the nursing board revoking a nurses' license as well as termination of her job.
The National Nurses Organizing Committee-Kansas, an affiliate of National Nurses United, argues the law opens the door for hospitals to retaliate against nurses for speaking out against management practices to erode patient care standards or other patient advocacy concerns.
The DC court decision, by the DC Circuit Court of Appeals, concerns a case involving NNOC-Kansas represented RNs at Menorah Medical Center in Overland Park, KS brought before Menorah's peer review committee for alleged misconduct.
In response, the National Labor Relations Board issued a complaint in favor of charges filed by NNOC-Kansas that Menorah violated labor law rights, including by failing to provide the union with full information about the secretive structure and composition of the peer review committee, full detail about the alleged conduct violations, and by denying the nurses' right to union representation when brought before the committee.
Menorah then challenged the decision to the DC Circuit Court, which issued its' ruling uphold the NLRB and NNOC-Kansas charges on key issues.
"This is an important ruling for both nurses and patients against an undemocratic law that is easily exploited by hospitals seeking to unfairly target nurses who speak out for patient safety. Under the state law, hospitals can hold secret inquisitions of nurses, carry out unfair discipline including termination, and act to have their license to care for patients at any hospital revoked," said NNOC Co-President Cokie Giles, RN.
"Today's ruling protects the rights of nurses to full access to information about employer disciplinary actions against them and who is making those charges, and is a welcome step forward for nurses who courageously act on behalf of their patients," Giles said.
"Clearly we are confronting an undemocratic law which tramples on the rights of nurses and the safety of patients. While defending the individual rights of nurses, we are also calling for full repeal of the state law," Giles said.
In addition to ruling for information access, the court decision also upholds the right of nurses to discuss the peer review proceedings with their colleagues and their union.
One component of the NNOC-Kansas charge and NLRB complaint concerned nurses' rights to union representation before the peer review committee.
The hospital argued that federal labor law protections did not apply because nurses were not compelled to attend the peer review committee hearings, and were only invited to attend. However, nurses who declined the invitation to attend would risk losing their license without any opportunity to learn about the allegations against them, or to present any defenses.
While the court ruling did not reinstate the nurses' right to union representation when meeting with the review committee, on all other counts the court ruled in favor of the NLRB complaint and the NNOC-Kansas charges, and nurses say they will seek to overturn what they view as an undemocratic law that puts nurses and patients at risk.
The DC Circuit Court panel ruling on behalf of the NLRB, included, among others, Judge Merrick Garland, former President Barack Obama's unsuccessful nominee to the U.S. Supreme Court.