Press Release
Nurses Week Celebration Kicks Off with Health Fair and Rally to Support Medicare for All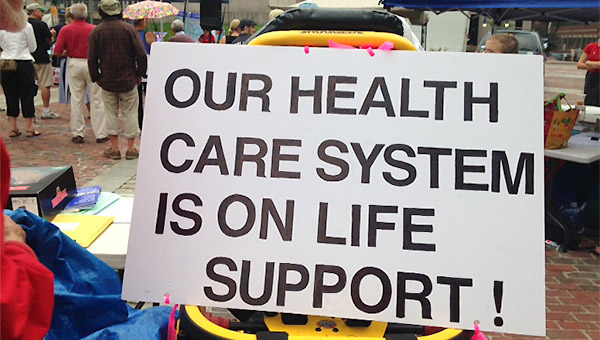 Press Conference: Sat. May 6, 1:30 pm
New Report on Healthcare Crisis in Maine Finds 83 Percent Support Universal Publicly Funded Care
The Health Care is a Human Right Campaign will kick off National Nurses Week with a health fair and rally in support of a Medicare for all type system in Maine, on Saturday, May 6th.
Maine State legislators, including Senator Ben Chipman and Representative Rachel Talbot Ross, will participate in the rally and a press conference, which will include testimony from the Maine State Nurses Association and other campaign partners. The event will also feature free services and information from local health organizations, speakers, games, and food.
The event marks the launch of the long-awaited report, Enough for ALL: A People's Report on Health Care, produced by the Southern Maine Workers Center (SMWC). Based on anecdotal and statistical data gathered over four years, the report details the state of the healthcare crisis in Maine and calls for statewide, universal, publicly funded care. 
What: Celebrating Nurses Week with Health Fair & Rally for Universal Health Care
When: Saturday, May 6 - Rally and Press Conference 1:30 pm
Where: Congress Square Park Portland, Maine Portland, Maine
(Rain location: Irish Heritage Center, 24 Grey St.)
"The new report reflects the healthcare crisis that RNs witness first hand," said Cokie Giles, RN and president of the Maine Street Nurses Association. "As long as health care is controlled by the insurance industry, nurses will not be able to provide the single standard of safe and effective care that our patients deserve. We are inspired by the campaign to create a single payer insurance plan in California and efforts in Congress to move towards single payer nationally. Now is the time for Maine to move forward too."
The new report is based on surveys and interviews conducted statewide in various venues regarding health care for Mainers. Over 1,300 surveys were collected indicating that 70 percent of Mainers have experienced gaps in coverage; 28 percent have been without insurance three to four years, and half have been without for 10 or more years. The report also shows that 44 percent of Mainers have stayed in a job just to receive insurance, and 83 percent support the idea of a universal, publicly funded system.
"When we spotlight stories of our experiences with the US healthcare system, we learn the truth about how the healthcare system actually works in this state and in this country. These individual stories tell us the big story of healthcare delivery in the US, the flaws, the gaps, and the inadequacies," said Samaa Abdurraqib, SMWC member.
"As a retired physician, it's high time that everyone understands from these stories how poorly the healthcare system serves Mainers.  We should all be working toward universal coverage," said Dr. Bill Clarke, member of Maine AllCare.