Press Release
Nurses Voted #1 in Honesty, Ethics, Again as in 15 Previous Gallup Polls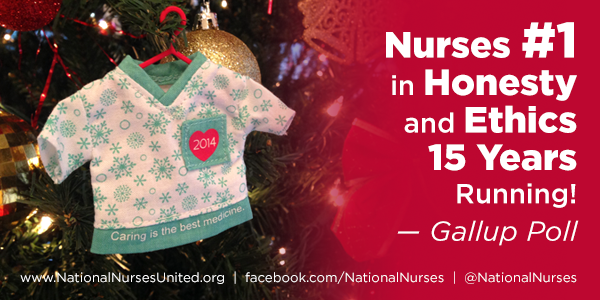 Nation's Largest Nurses Group Cites Greater Advocacy Role at Bedside, Beyond in Year of Ebola
In what has become a holiday tradition, registered nurses are once again viewed as the most trusted profession in the U.S., according to an annual Gallup survey conducted December 8-11.
RNs are viewed as having "very high" or "high" ethical and honesty standards by 80 percent of the public, a full 15 points higher than any other profession in the Gallup Poll. Nurses have topped the list each year since they were first included in 1999, with the exception of 2001 when firefighters were included in response to their work during and after the 9/11 attacks. Additionally, Gallup notes, "since 2005 at least 80 percent of Americans have said nurses have high ethics and honesty." Car salespeople, lobbyists, and members of Congress are rated lowest.
"We could not be more proud to continually earn the trust and confidence of the public," says Deborah Burger, RN, co-president of the nation's largest organization of nurses, National Nurses United, which represents 185,000 registered nurses in all 50 states. "In their most vulnerable moments, patients and families know that they can count on nurses to care for them—to stand up for them."
In 2014, RNs faced ever-growing challenges to safeguard patient safety at the bedside, ranging from flawed electronic medical record technology and unsafe staffing conditions, to fighting to keep hospitals open in underserved communities and securing proper protective equipment for front-line healthcare workers against the deadly Ebola virus in West Africa, as well as the U.S.
A few highlights of the gains made over the last 12 months illustrate why nurses continue to earn the trust of the public year after year. RNs were at the forefront of:
Fighting for the highest Ebola safety standards
As the hospital industry dismissed nurse concerns, and the federal government failed to act, registered nurses stood up and demanded substantially improved safeguards for the Ebola virus. A global day of action by 100,000 RNs and health workers resulted in landmark mandatory Ebola guidelines in California, serving as a model of action for all U.S. hospitals.

Nurses march to the Federal Building in Oakland, CA
on the National Day of Action for Ebola Safety

Elevating patient safety standards at the bargaining table and in the legislature
RNs won regulations in several states requiring hospitals to maintain workplace violence prevention plans and safe patient handling. Safe nurse-to-patient staffing protections are now part of all NNU contracts. Nurses, who are increasingly the primary breadwinner in the family, safeguarded comprehensive healthcare coverage, including retiree health and secure retirement benefit.
Campaigning for environmental and economic justice
RNs know firsthand how their patients can suffer from environmental toxins, extreme weather and other aspects of the climate crisis. This year, RNs played a leading role in opposing the Keystone XL pipeline, mobilized nurses from around the nation to protest the Detroit water shut-off, calling it a threat to public health, and sent a delegation to this month's United Nations Climate Change Summit in Peru.
Protecting and Expanding Medicare for All
This year, NNU members continued the fight for universal healthcare in town hall meetings, free health screenings, and legislative initiatives from Maine to California.
Championing the fight for Economic Justice with a Tax on Wall Street
With an economic crisis continuing to affect working families, seniors, and children, nurses stepped up the call for a tax on Wall Street speculation. HR 1579, the Inclusive Prosperity Act, the Robin Hood Tax, is a vital step towards funding the programs to redress economic inequality and address other basic needs.
According to Burger, a commitment to maintaining public trust and upholding high ethics, reflected in the Gallup Poll findings, is woven into the very fabric of nursing.
"We hold that trust with our patients and communities as a sacred bond," she says. "Patients and their families expect nurses to fight for them at the bedside, even when it conflicts with the profit motive of far too many hospital managers, insurance companies and others in the healthcare industry who put the bottom line above patient interest."