Press Release
Nurses Volunteer to Provide Urgently Needed Medical Care to Migrants Released from ICE Detention
Sixth group of Registered Nurse Response Network nurses continue to staff emergency shelter.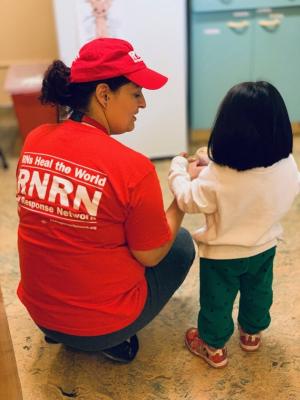 Nurses are providing the medical aid at a shelter operated by Catholic Community Services of Southern Arizona, which has cared for more than 2,500 migrants since October 2018 and in recent weeks has noted an uptick in the numbers of people coming through its doors.The RNRN volunteers are treating families, some of whom are fleeing extreme violence in their home countries.
RNs understand that many of these migrant families need medical care after their long and arduous journey and subsequent detention under harsh conditions in federal facilities. The nurses have volunteered their time through RNRN to answer the call to help.
Nurses from previous RNRN deployments to border towns said many migrants show signs of PTSD, trauma, dehydration, and exhaustion, as well as cold and flu symptoms. Nurses have treated them for a variety of illnesses, including dehydration, sprained ankles, broken bones, exhaustion, chicken pox, colds, viruses, and respiratory illnesses.Some of the migrants' deteriorated medical states appear to have been exacerbated by poor treatment and unhealthy conditions while in ICE detention.Recent news reports and congressional hearings revealed that detainees are often housed in fenced cages with concrete floors and cold temperatures without adequate bedding or clothing for warmth.Nurses from previous RNRN deployments said that in some cases, migrants reported that their labeled prescription medications had been thrown away by detention center staff.
"I am so grateful for the support of RNRN, the nursing community, and the Tucson community for embracing the humanity in each person and welcoming the tired, the hungry, and the poor, fleeing their homes for safety," said Nancy Rudner, an RN volunteer from Maitland, Fla. "I am so grateful to be able to serve these families."
Catholic Community Services of Southern Arizona, the group running the shelter, said that the RNRN nurse volunteers are providing an invaluable and critical service for migrant families.
"Working with RNRN has been an amazing gift," said Teresa Cavendish, director of operations for the organization and for the Casa Alitas program. "The compassion, the understanding, and the empathy of the nurses, accompanied with the consistent, high-quality, round-the-clock nursing care they provide when they are with us, is more than we ever expected."
Paul Boring, a local Tucson RN, said that the migration of people is not new, it will continue, and that it should not be viewed as a threat. "Instead of falling prey to easy fears and feeding a cruel, dehumanizing system, we can decide to protect people and provide the most basic needs," said Boring. "I saw an opportunity to do more."
RNRN has been sending nurses to the border region every weekend since the beginning of February and will continue to do so into the spring season.  
RNRN volunteer nurses have cared for thousands of patients during disaster relief and humanitarian assistance deployments that include the South Asian tsunami (2004); Hurricanes Katrina and Rita (2005); the Haiti earthquake (2010); Hurricane Sandy (2012); Super Typhoon Haiyan/Yolanda (2013); Hurricanes Harvey and Maria (2017); Vulcan de Fuego Relief in Guatemala and Hurricane Michael (2018); and the Continuing Promise 2010 and 2015 humanitarian missions with the Department of Defense. RNRN volunteers have also provided first aid and basic response services to hundreds of community events across the country, as well as rotating teams who assisted the water protectors in Standing Rock in 2016.
RNRN is powered by CNF and NNU, the largest union and professional organization of registered nurses in the United States with more than 150,000 members.