Press Release
Nurses to Villaraigosa: Stop Misleading Public on SB 562 Federal Actions Make Action Now for Real Reform Urgent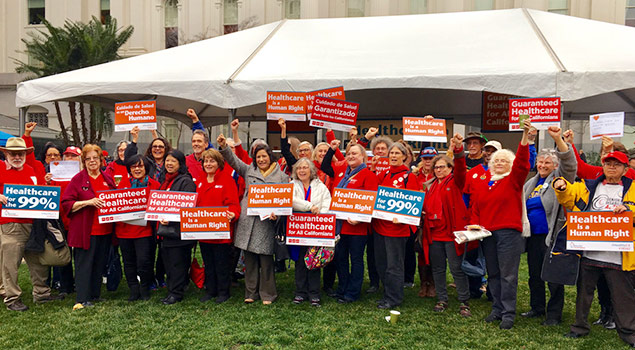 The California Nurses Association/National Nurses United today criticized gubernatorial candidate Antonio Villaraigosa for "deliberate and repeated misrepresentations" about critical legislation, SB 562, that would deliver full health coverage for all Californians, without the devastating deductibles and co-pays that prompt many to ration needed care.
In a candidates' forum last weekend in Los Angeles, Villaraigosa repeated "insurance industry talking points opposing this vital legislation that becomes more essential every day with an all out assault on health care access and cost by the Trump Administration and the Republican majority in Congress," said CNA Co-President Deborah Burger, RN.
"How long will Californians endure politicians, especially candidates for governor, who pay lip service to universal health care while opposing actual legislation that would guarantee coverage that every resident of our state can use without facing medical bankruptcy or having to skip other basic needs when they are sick," Burger continued.
Burger singled out two statements by Villaraigosa in the forum as "untruths unworthy of a candidate for governor that amount to little more than fear mongering."
First, that SB 562 would "cost $400 billion." That, says Burger, is a "substantial misrepresentation. California is already spending $368 billion every year on health care while 15 million Californians remain uninsured, or forgo needed medical care, even while paying premiums, due to high out of pocket costs. And it's about to get worse, with the machinations in Washington."
A comprehensive analysis of the bill commissioned by CNA describes how SB 562 would produce real savings over what is spent now by elimination of inefficient private insurance administrative waste – which consumes four to five times the costs of Medicare – much of which goes to profits, executive compensation, and claims denials.
"No other reform produces those savings and reduces costs to businesses, government and individuals; no other reform eliminates insurance company, premiums, deductibles and co-pays that restrict Californian's access to care," Burger noted.
The study proposes new revenue measures that could then extend coverage to everyone, and eliminate premiums and co-pays in a manner that would result in virtually every California household and business spending less on healthcare than they do now.
Fear Mongering Toward Seniors, Veterans
Second, Villaraigosa in the candidate forum, claimed the bill would "take everybody off Medicare and veterans care" – which Burger called "an outrageous lie that has no purpose other than to stoke fear among our seniors and our veterans."
In fact, she continued, "SB 562 strengthens Medicare. It eliminates the co-pays seniors currently pay, and covers prescription drugs, while preserving the rest of Medicare. Moreover, to contain prices, SB 562 would establish Medicare rates as a reasonable amount of reimbursement for providers. Veterans Administration healthcare would be excluded from the new Healthy California program, since the VA is a closed system where the facilities and clinicians are federal government employees.
"The 'snake oil' that Villaraigosa is using as a tired cliché is what politicians who pander to the insurance industry offer as an alternative to SB 562, which is just continuation of a status quo, discriminatory system based on ability to pay that has abandoned millions of our people.
"Nurses will never stop campaigning for a more humane system based on patient need, not corporate profits. And we don't need a governor who cares more about protecting his special interest donors that the residents of this state," Burger said.
CNA has endorsed Lt. Gov. Gavin Newsom for Governor in part due to his "consistent commitment to single payer healthcare reform, and pledge to lead efforts to achieve it in Sacramento," Burger noted.