Press Release
Nurses Urge VA to Work with Them in Good Faith to Ensure Quality Care for Veterans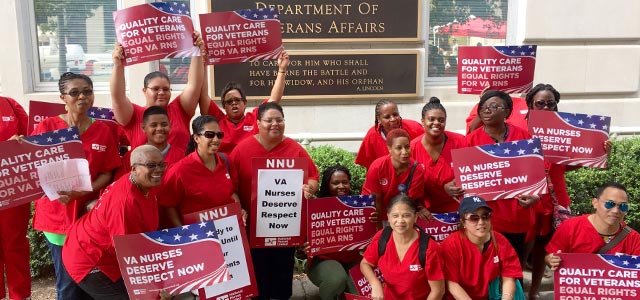 Informational Picket – Thursday, August 25, 1:30 p.m.
Registered nurses will hold a picket Thursday, August 25, urging the U.S. Department of Veterans Affairs to work with them to ensure quality care at the VA by moving forward with stalled negotiations.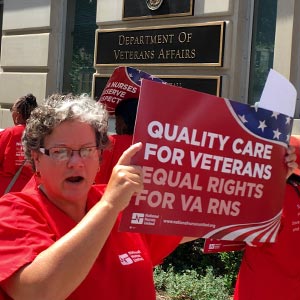 The nurses will be speaking out on behalf of the 11,000 RNs affiliated with National Nurses United at 23 VA facilities in 12 states. Nurses are voicing concerns on patient care issues, including chronic short staffing and the recruitment and retention of experienced nurses. Over the past 20 months, RNs have submitted 1500 reports documenting understaffing and other patient care issues to VA management.
"The duty of registered nurses within the VA healthcare system is to provide high quality care and to advocate for the men and women who put their lives and health at risk defending our nation," said Irma Westmoreland, RN and Chair, NNU-VA. "That's why we're holding this picket. We are the front-line caregivers whose work ensures that patients get the care they need, and in many cases we are veterans and patients ourselves. We urge the VA to negotiate with us in good faith so the VA can recruit and retain experienced RNs and ensure timely care for our vets."
What:  Picket: Nurses Urge VA to Negotiate in Good Faith to Ensure Quality Care
When: Thursday, August 25, 2016, 1:30 p.m.
Where: In front of the U.S. Department of Veterans Affairs Headquarters
810 Vermont Avenue NW, Washington, DC 20420
There are thousands of RN vacancies at VA facilities, sometimes as many as 15,000, system-wide, due to delays in hiring and recruitment and retention issues. Nurses would like to address these issues in a process that includes representatives from each bargaining unit. The VA has stalled the commencement of negotiations by refusing to allow this representation and by demanding other restrictions on the bargaining process including limiting RNs right to communicate with the public.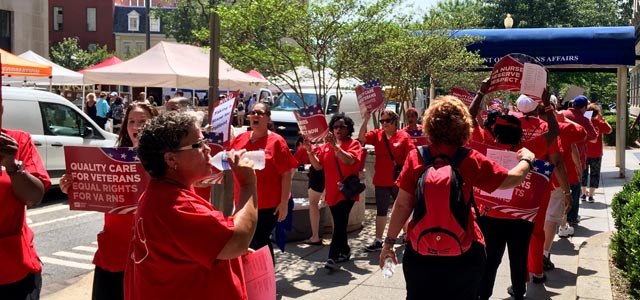 "We VA nurses are honored to work at the VA because we know it provides the specialized care our veterans so deeply need," said Westmoreland. "We're saying, let's move forward with negotiations as soon as possible, so we can focus on healing and rehabilitating the heroes of our nation's armed forces."