Press Release
Nurses Urge Tennessee Attorney General to Reject HCA Bid to Acquire NorthCrest Health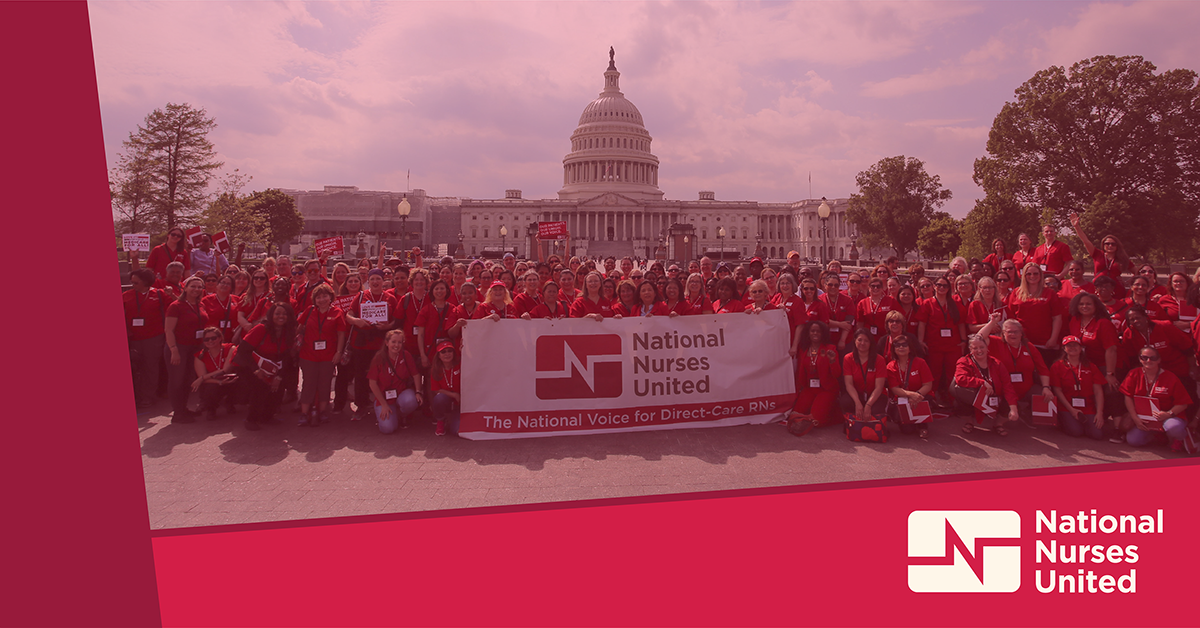 National Nurses United Wednesday called on Tennessee Attorney General Herbert Slatery III to reject HCA Healthcare's acquisition of NorthCrest Health in Springfield, Tenn., citing the potential adverse impact on patient care services and care costs for area residents.
The attorney general's office has final regulatory review and approval of the sale of nonprofit NorthCrest to TriStar Health, an affiliate of HCA, the largest hospital system in the United States. The NorthCrest board of directors finalized the sale in late March.
NNU, the nation's largest nurses union, which represents 12,000 HCA registered nurses at 20 HCA facilities from Florida to California among its 170,000 members, warned that through its "monopoly power in the service area of NorthCrest Health," HCA will use its "market domination to "limit access, raise prices, and degrade the quality of care."
In a letter to the attorney general, NNU's HCA and Southern Region Director Bradley Van Waus, urged Slatery to "reject the transaction," saying that HCA "has repeatedly proven itself to be the wrong choice for community hospitals throughout the United States."
"Granting HCA such power," Van Waus wrote, "appears to carry a high risk of abuse, especially in light of the company's past behavior." Examples include:
"HCA has demonstrated a longstanding pattern of cutting services to communities following its acquisitions of other community hospitals and systems, eliminating choices and leaving vulnerable patients at risk."
"HCA leads the health care industry in excessive charges, potentially driving up prices in the areas to which it expands."
"HCA has a track record of downgrading staffing standards, safety measures, and equipment, reducing the overall quality of care at hospitals it acquires."
Van Waus also cited patient privacy concerns following recent news reports of HCA's deal with Google that will give the Silicon Valley giant access to patient care data and other personal information. "Because of HCA's monopoly-seeking tactics, patients in many Tennessee markets will have no choice but to share their health care information."
Tennessee has already seen one adverse impact from an HCA acquisition, the letter notes. In 2014, HCA took over Grandview Medical Center, a rural hospital in Jasper, Tenn., to join its Parkridge Health System. It then closed all inpatient services, converting the facility to a freestanding emergency department. Emergency patients needing hospitalization had to travel to Chattanooga, 30 miles away.
HCA engaged in similar buyouts in Houston and north Florida, converting full-service hospitals to freestanding emergency departments, which "often do not provide the same level of care as hospital-based emergency rooms. Instead, they are akin to urgent care centers.  Despite this, freestanding emergency rooms will regularly charge hospital emergency prices for their health care services and have been described as a 'cash cow' by the Texas Tribune," the letter notes.
TriStar Health operates seven hospitals within 50 miles of NorthCrest, the letter continued. "Due to this proximity, it is possible that under HCA, NorthCrest will eliminate or shift around services at these facilities, negatively impacting the local community's proximity to needed care and services as it has proven to do in other regional systems."
At another Southern regional hospital, HCA last year shuttered rural chemotherapy services in four towns served by Mission Health in western North Carolina, requiring patients to travel as far as 60 miles to Asheville, N.C. to receive lifesaving care.
HCA Healthcare's High Cost of Care
HCA hospitals are known to be among the most expensive in the country. Hospitals in HCA's portfolio accounted for 53 of the top 100 hospitals with the highest patient care markups in 2018 and six of the top 10, according to an NNU study last November, the letter notes.
In Tennessee, HCA-affiliated hospitals account for 4 of the 10 most expensive hospitals, charging an average of $1,038 for every $100 spent on patient care. In comparison, NorthCrest Health currently charges an average of $446 for every $100 spent. Hospitals use high charges to negotiate higher payments from insurance companies, which results in insurers passing the costs to businesses that cover employees, and to individuals, resulting in much higher out-of-pocket costs in premiums, deductibles, and co-pays.    
Staffing Cuts and Safety Measures
Throughout the pandemic, HCA nurses have repeatedly raised safety concerns at HCA hospitals, the letter continues. One hospital had gone so far as to tell nurses not to wear masks while working to avoid "scaring the patients."  
In North Carolina, after HCA's acquisition of Mission Health, "many nurses found themselves forced to care for more patients at the same time," while HCA also reduced the number of critical support staff. Amid clinic closures and aggressive attempts to renegotiate contracts with physician groups, ABC News 13 in Asheville reported that "at least 79 doctors have left or plan to leave Mission Health," the NNU letter adds.
The full letter is available upon request.