Press Release
Nurses Urge Senate to Reject Proposed Budget Resolution 'Will Endanger the Healthcare of Millions of Americans'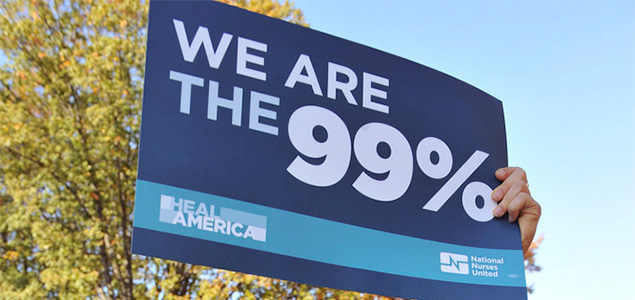 National Nurses United today called on members of the Senate to vote against the Fiscal Year 2018 Budget Resolution warning it will "endanger the healthcare of millions of Americans in order to ensure tax breaks for the wealthy, hurting our patients and hurting our country."
Overall the proposed budget would cut vital social programs by $5 trillion over 10 years, including "lifesaving healthcare programs" like Medicaid, Medicare as well as food stamps, housing assistance, childcare programs, and more, wrote NNU RN Co-Presidents Deborah Burger and Jean Ross.
The proposal to slash $1 trillion from Medicaid and more than $470 billion from Medicare alone, said Burger and Ross, would cause more than 15 million people to lose health coverage.
"These funding cuts would reduce coverage for the most vulnerable, shift care from clinics to emergency rooms, and increase system costs for the chronically ill as they defer treatments because of cost. Furthermore, the resolution's cuts of funding to the National Institutes of Health by $37 billion over the next ten years will negatively impact research in critical areas of care."
Burger and Ross also condemned proposed drastic reductions to food stamps, Supplemental Social Security Income, housing aid for more than one million families the Women and Infant Children Program, heating assistance for 700,000 seniors, and deep cuts to other protective programs.
"All of these programs are critical to our patients. If patients don't have food, a roof over their heads, or heating to keep them warm in the winter, their health will suffer. There already are far too many people who live without access to these programs; this budget would make the situation much worse."
In their place, the budget provides "nothing more than a massive transfer of wealth from the poorest Americans to the wealthiest," Burger and Ross wrote. "The FY 2018 budget will increase income inequality in the United States and prevent tens of millions of patients from getting the quality, therapeutic care they need, when they need it," they concluded.