Press Release
Nurses Urge Immediate Senate Passage of Honoring Our PACT Act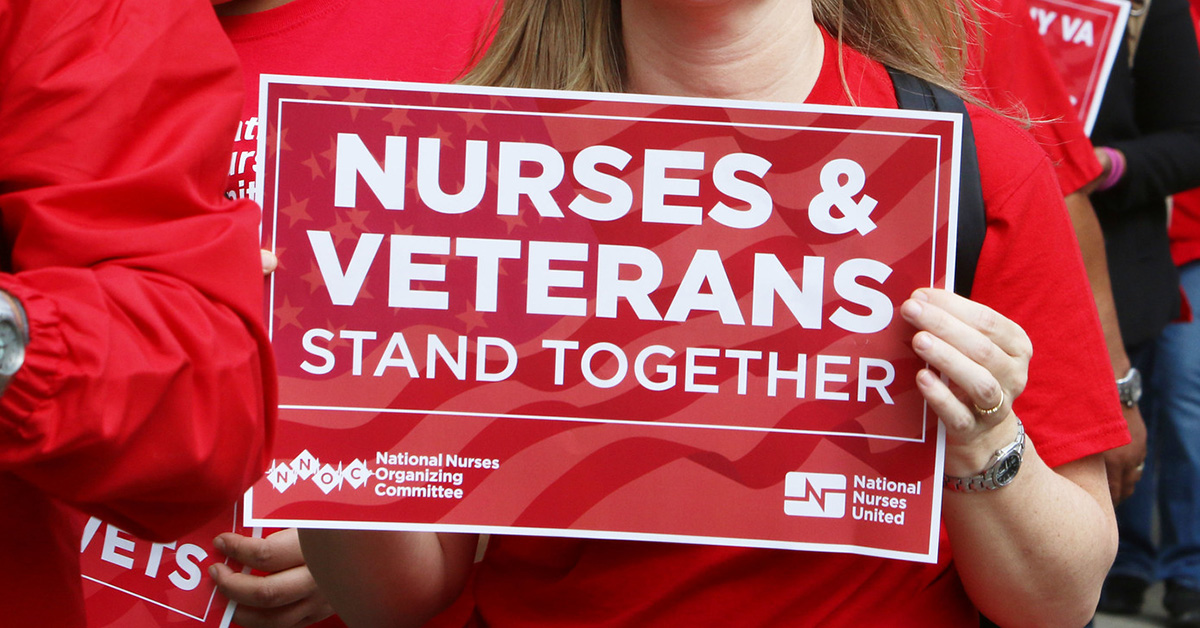 Today National Nurses United (NNU), the nation's largest union and professional association of registered nurses, announced its support for the Sergeant First Class Heath Robinson Honoring our PACT Act, a bill sponsored by Sen. Jon Tester, chairman of the Senate Veterans' Affairs Committee, and Sen. Jerry Moran, ranking member of the committee, that would expand VA services to the 3.5 million United States veterans who faced toxic burn pit exposure during their military service.  
 
"Nurses know it is time to finally treat veterans' toxic exposure as a true cost of war, and we urge swift passage of this legislation that will allow us to continue our work healing and caring for our nation's heroes," said Irma Westmoreland, RN, chair of NNU-VA, the organization's veterans division.
 
NNU represents 175,000 registered nurses, including RNs working at 23 VA facilities across the country, many of whom are veterans themselves. The VA's own research has shown that veterans exposed to burn pits and other toxic chemicals face chronic illnesses and even death related to that exposure, and yet those veterans have been unable to access the top-tier health care that the VA provides.
 
The Honoring our PACT Act is the first step towards relief for those service members and their families who will, as part of this legislation, have access to the full range of earned benefits and health care provided by the VA as a result of their toxic exposure. The legislation will add 23 burn pit and toxic exposure-related conditions to the VA's list of service presumptions as well as create a framework for the establishment of future service presumptions connected to toxic exposures, alongside guaranteeing routine screenings for veterans who may have faced exposure to toxic chemicals. Additionally, it will strengthen federal research on toxic exposure and improve VA's resources and training for toxic-exposed veterans, including investing in VA's workforce and health care facilities.
 
"Day in and day out, VA nurses provide the highest levels of care for our nation's heroes," said Westmoreland. "It is vital that the VA be able to treat veterans who have been exposed to toxic burn pits.  
 
"Providing the highest-quality health care to veterans and their families has always been the top priority for VA nurses, and we are glad to see that the Honoring our Pact Act will expand access to the VA's top-tier care to millions more," added Westmoreland.
"NNU is proud to stand with the veterans, veterans' service organizations, and members of Congress who have fought tirelessly over many years to make this legislation a reality," said Jean Ross, RN, NNU president. "It is past time that toxic-exposed veterans are able to access their health care and benefits under the Department of Veterans Affairs.  
 
"As patient advocates on the front lines of care in the VA, nurses understand the impact this legislation will have on our patients, and we urge Congress to pass this bill and send it to the president's desk as soon as possible," she added.  
 
National Nurses United is the largest and fastest-growing union and professional association of registered nurses in the country, with more than 175,000 members nationwide.