Press Release
Nurses urge Gov. Newsom to sign bill requiring public sector employers to provide meal and rest breaks to health care workers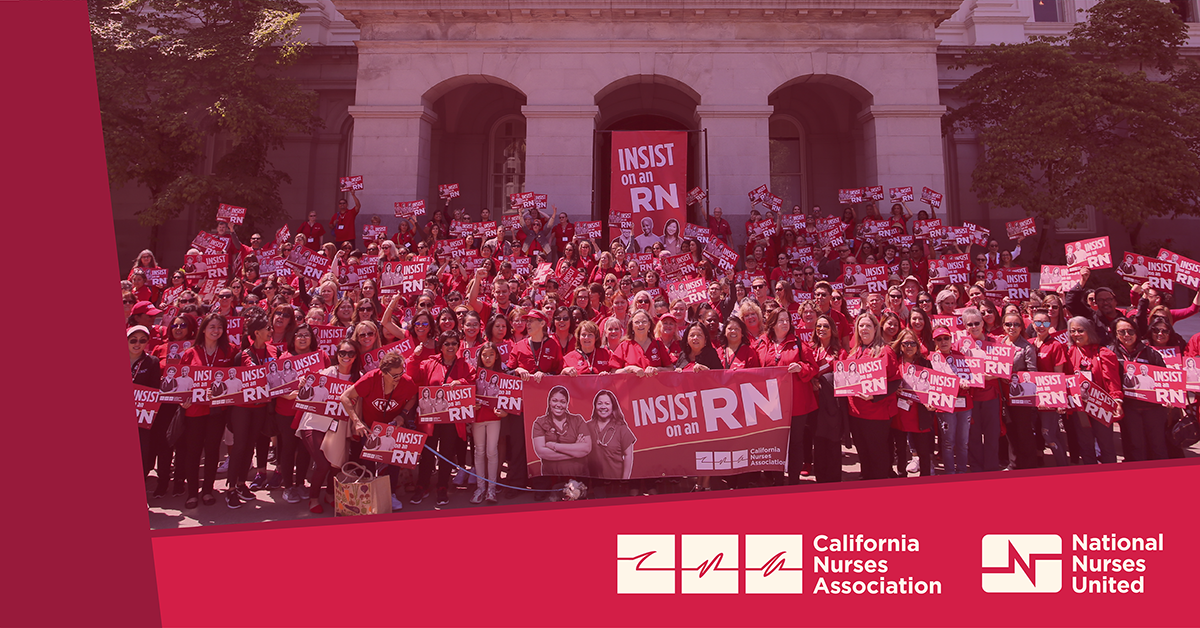 S.B. 1334 would guarantee enforceable breaks for public-sector hospital workers who provide direct patient care
The California Nurses Association (CNA), a union with more than 100,000 members in the state, urges Gov. Gavin Newsom to sign S.B. 1334, which would guarantee enforceable breaks for public sector and University of California (UC) workers who provide or support direct patient care in a hospital, clinic, or public health setting. The bill recently passed the Senate floor and moved to Newsom for signature.
S.B. 1334, authored by Sen. Steven Bradford and sponsored by CNA, will ensure that public-sector employees who provide direct patient care or support direct patient care will be covered by Section 512 of the California Labor Code, guaranteeing meal breaks and rest periods for UC Nurses. Currently, only private-sector nurses are guaranteed meal and rest periods while nurses employed in the public sector lack these basic protections, though they perform the same duties.
"Public-sector nurses deserve the same protections as private-sector nurses," said Dahlia Tayag, an RN at UC San Diego. "Nurses always want to provide our patients with the best care. If nurses can't take a break to eat or to rest during a 12-hour shift, we will be very tired. Exhaustion increases the likelihood of medical errors. We know that a well-rested nurse will give patients optimal care. We urge Gov. Newsom to sign S.B. 1334."
In general, California's Labor Code has not been found to cover public-sector employees unless explicitly stated. S.B. 1334 would ensure that public-sector health care employees have the same protections as private-sector employees. The bill provides for an unpaid 30-minute meal period for health care workers, including nurses, who work over five hours and an additional 30-minute break for workers who work more than 10 hours. California law also provides for a 10-minute rest period for every four hours worked.
"We know better-rested nurses will provide higher quality patient care for Californians," said Tayag.
The California Nurses Association/National Nurses United is the largest and fastest-growing union and professional association of registered nurses in the nation with 100,000 members in more than 200 facilities throughout California and more than 175,000 RNs nationwide.