Press Release
Nurses urge country to stay vigilant on Covid-19 in face of President's 'reckless' behavior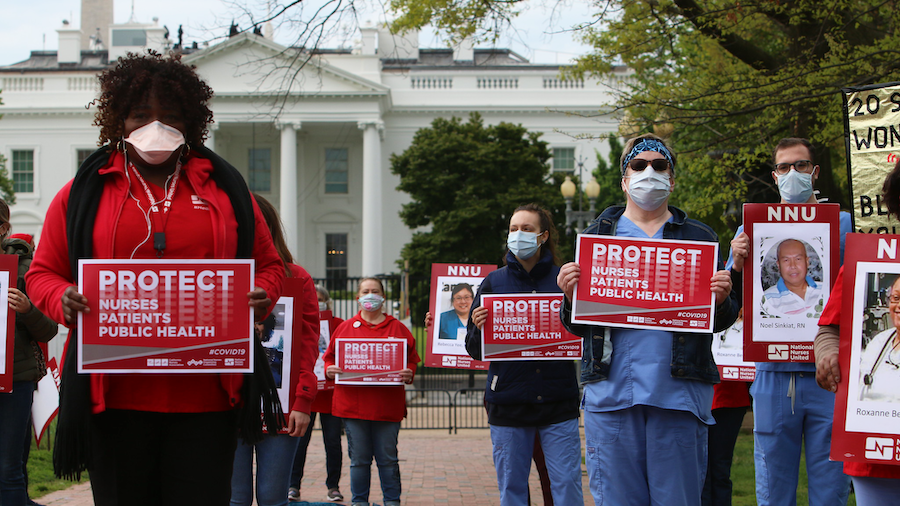 National Nurses United today urged people across the country to remain vigilant on Covid-19 precautions while condemning President Trump for behaving in a way that puts those around him and the entire nation at risk, and for cancelling negotiations on a new Covid stimulus legislative package that would help working people and families.
"Nurses call on President Trump to show he cares about the health of the people working in the White House, and the health and safety of people in America by quarantining, wearing a mask, not tweeting irresponsible, unscientific advice, and not holding this stimulus bill hostage," said NNU Executive Director Bonnie Castillo, RN. Nurses note that after Trump left Walter Reed Medical Center yesterday, he removed his mask before entering the White House.
"Let's be clear that the White House is still a job site for hundreds of workers, and the president's reckless, irresponsible behavior ignores the right of those workers to a safe workplace, without their boss walking around shedding a virus that has killed 210,000 people in the United States," said Castillo.
"President Trump has shown complete disdain and disregard for his employees' lives," said NNU President Deborah Burger, RN.
Nurses say that conflicting messaging from the White House and Trump's doctors calls into question exactly when President Trump did test positive. They condemn the president's continued public appearances even after known, close contact with his aide Hope Hicks, who reportedly had symptoms even before she tested positive last Thursday.
Nurses also condemned the Trump White House for declining help from the CDC with formal contact tracing, which the White House has failed to do.
The president tweeted today that Covid-19 was no more dangerous than the flu, which nurses note is demonstrably false. Both Twitter and Facebook took the extraordinary steps of deleting Trump's social media posts because of this falsehood.
Since the earliest days of the pandemic, nurses have been calling on the Trump administration and hospital employers to follow the precautionary principle, which says until there is scientific proof something is safe, it's best to take the highest level of precautions, not the lowest. Nurses also have called on President Trump to fully invoke the Defense Production Act to mass produce personal protective equipment for health care and frontline workers, and for federal OSHA to promulgate an emergency temporary standard on infectious diseases—both protections that were in the most recent stimulus bill passed by the House before Trump cancelled all negotiations today.
"Nurses' lives have been put at risk for months and months, and we still don't have the personal protective equipment we need," said NNU President Jean Ross, RN. "President Trump has had nine months to do something about it, but he has irresponsibly failed to act and failed to protect the U.S. people."
"It appears the president has learned nothing from contracting the virus himself and how his flaunting of public health measures led to him, First Lady Melania Trump, and others close to him contracting the virus," Ross continued. "Meanwhile, he defiantly and irresponsibly took off his mask before entering the White House last night, potentially exposing the people around him. We call on people in the United States to stay the course on Covid-19 precautions—go out only when necessary, wear your mask, socially distance, and wash your hands—and to follow the example set by nurses, even when the president is not."