Press Release
Nurses Urge Council to Pass Legislation to Ensure Hospital Safety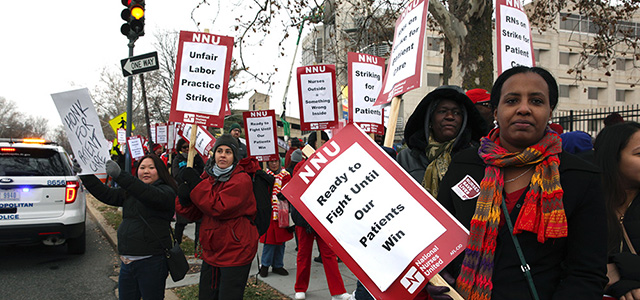 Washington, D.C. -- Registered nurses today urged the District of Columbia Council's Committee on Health and Human Services to promptly pass legislation to ensure that hospitals create plans and take necessary action to protect patients, health care workers, and others from violence in hospitals. 
 
"A nurse colleague and I were attacked by two family members of a patient on an evening in late 2012," Elaine Sherman, a registered nurse at the DC VA Medical Center and a member of National Nurses United, told the committee.
 
Hannah Roy, an NNU registered nurse at MedStar Washington Hospital Center, testified that, according to Occupational Safety and Health Administration records, between 2012 and 2014, staff members at her hospital were victims of violence on the job "an average of twenty-three times per year—in other words, at a rate of almost twice a month.  This is unacceptable."
 
An analysis of OSHA data indicates that across the US, between 2012 and 2014, the rate of injuries from workplace violence increased for all hospital job classifications by 50 percent and almost doubled for nurses and nursing assistants.  According to Scientific American, "Health-care workers experience the most nonfatal workplace violence compared to other professions by a wide margin, with attacks on them accounting for almost 70 percent of all nonfatal workplace assaults causing days away from work in the U.S., according to data from the Bureau of Labor Statistics." Research also has shown that 13 percent of registered nurses across the country experience physical violence per year.
 

"My hospital needs to strengthen its health and safety plan, particularly with respect to risks of violence against staff and we have urged management to do so, but this issue goes beyond individual hospitals," said Elissa Curry, a registered nurse at Providence Hospital and a member of National Nurses United.  "It is the obligation of the hospital employers to provide a safe workplace for all of their staff so that we can best provide the care that our patients need and deserve.  It is the obligation of the DC government to require that the hospitals do so." 
 
Research studies published in peer-reviewed journals show that reductions in violence in hospitals occur when hospitals implement a robust workplace violence prevention plan that includes training in behavioral cue identification, de-escalation and evasion; an increase in qualified staffing; and other measures so that hospital staff are not isolated or in dim lighting and thus more vulnerable to attack.  Many of these components are mandated in California's new proposed regulations on workplace violence prevention in hospitals, which nurses advocated the DC Council follow and put in place effective standards and requirements that hospitals in our nation's capital provide a workplace free of violence. 
 
Nurses urged members of the Council to enact legislation that mandates all DC hospitals:
Develop a comprehensive workplace violence prevention plan, based on a unit-by-unit analysis of workplace violence hazards, with specific means to evaluate the plan's effectiveness.
Involve all frontline staff in workplace hazards analysis, development of the workplace violence prevention plan, correction of workplace violence hazards, and plan evaluation. 
As necessary per the workplace hazards analysis and violence prevention plan:

Implement environmental and engineering controls, such as adequate lighting, curved mirrors, alarm systems and other security devices, panic buttons, and private channel radios.
Provide appropriate administrative controls, e.g., adequate staffing; no solo work in high-risk areas, reporting of all incidents, reduction of waiting time for patients and visitors, liaison with police.

Provide in-person training to all onsite employees, to include: How to report incidents; the risk of particular patient populations; and early intervention de-escalation techniques.
Encourage employees to identify workplace violence hazards and report incidents of workplace violence, without reprisal for such reporting.
Provide a process for employees to report violent incidents through hospital administration, and for employees to make reports with local law enforcement agencies as needed.
 
Nurses also urged the Council to adopt the Safe Working Conditions for Healthcare Workers Amendment Act, also known as the Patient Protection Act to ensure sufficient RN staff in each hospital unit who would be better able to provide care for our patients and better able to engage with patients and visitors to prevent or de-escalate violence before it starts.
 
"At my hospital, key contributors to violence are overcrowded waiting rooms as well as understaffed inpatient wards and understaffed emergency department," said Roy. "In understaffed hospital units, there can often be a delay of or inadequate care and medical errors which can in turn lead to increased agitation and stress by patients and visitors.  When there is understaffing, those staff who are at the bedside become easier targets and are more vulnerable to attack."  OSHA has cited understaffing as a key risk factor for violence against hospital workers.   

National Nurses United is the largest organization of registered nurses in the United States.
For more images of the committee hearing please visit our Flickr set.