Press Release
Nurses' Union Endorses Dennis Kucinich for Ohio Gov., Welcomes His Health Care Plan for the State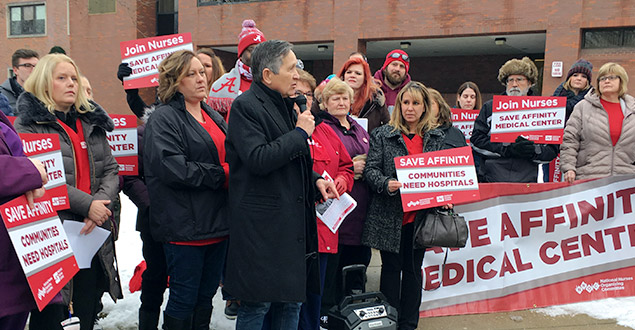 National Nurses Organizing Committee, an affiliate of National Nurses United, the nation's largest union of registered nurses, today announced its endorsement of Dennis Kucinich for Governor of Ohio and his running mate Tara Samples for Lt. Governor. Kucinich and Samples are running in the Democratic primary scheduled May 8.
"Dennis Kucinich has been a longtime ally of registered nurses and our patients and has a storied record of progressive leadership in the US Congress and as Mayor of Cleveland," said Malinda Markowitz, RN, chair of the NNOC/NNU political action committee.  "Dennis shares nurses' values of caring, compassion and community and that's why we are proud to endorse him to be Ohio's next governor."
The nurses praised Kucinich's announcement Saturday of his single-payer, Medicare-for-All plan to solve the health care crisis in Ohio, as an indication of his long history of support for guaranteed healthcare for all.
"We welcome Dennis' proposal today for a Medicare-for-All system in Ohio," said Rhonda Risner, RN, a member of NNOC/NNU from Dayton.  "The current system is not working for large numbers of Ohioans. Almost 650,000 people in Ohio have no health insurance whatsoever and tens of thousands more who have insurance with deductibles and co-pays so high they cannot afford to see a doctor or seek hospital care when they need it. This is a key reason why we need Dennis Kucinich as our next governor so we have a real leader in Columbus who will enact a real solution to this crisis."
On April 15, the Cleveland Plain Dealer endorsed Kucinich, stating: "Ohio's next governor must be a fighter -- a fighter for greater equity, justice and common sense; a fighter for the state's urban centers; and a fighter against the moribund thinking on education, diversity, economic opportunity and home-rule rights that's held Ohio back for too long.... Kucinich is the one most likely to challenge Statehouse inertia."
Nurse leaders also cited Kucinich's strong stance to stop hospital closures in the state and his commitment to safe RN staffing standards in the state's hospitals.
Kucinich's long time role in fighting to protect community health services, was recently evidenced in his public support in January for nurses and community residents opposing a corporate hospital closure in Massillon, Oh. As one news report noted when Kucinich spoke at a rally of nurses and community leaders, "trying to save hospitals is something Kucinich (has) on his resume," referencing a successful fight to save a Richmond Heights hospital "that still remains open today."
"Dennis understands the public health crisis that hospital closures create, especially in rural areas where there are no alternatives for people to seek care," said Risner.  "He does not hesitate to act on his convictions as he did when he rallied alongside us to demand that Affinity Hospital in Massillon remain open and in his steadfast support for mandatory, minimum nurse-to-patient ratios in our hospitals so patients get the care that they need. Dennis Kucinich's political courage is what Ohio needs now."
"No one is closer to the health care of patients than nurses," said Kucinich.  "I look forward to working with the National Nurses United in helping to bring about not-for-profit health care for all as Governor of Ohio."
 National Nurses United represents 150,000 registered nurses across the United States.