Press Release
Nurses Top Gallup Poll as Most Trusted Profession for 18th Consecutive Year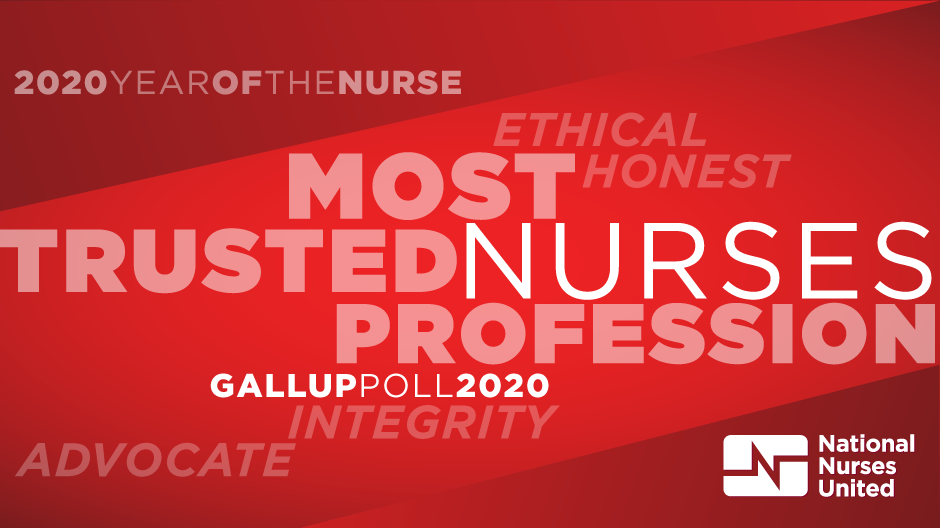 "The public can count on nurses to stand up, show up, and speak up until the broken U.S. healthcare system is profoundly transformed."
Nurses topped the 2019 Gallup Poll's annual ranking of how Americans view 22 major professions with 85% of the public, four in five Americans, rating their honesty and ethical standards as "high" or "very high." Nurses have ranked first for 18 consecutive years and every year except for one since 1999 when Gallup started to survey public opinion on the honesty and ethical standards of various occupations.
"We are honored by this poll and what it reflects - that our patients, their families and the public know that they can trust and count on nurses to stand up for them. This year's results have special meaning for us as we move into 2020, which the World Health Organization has declared the 'Year of the Nurse and Midwife,'" said National Nurses United Executive Director, Bonnie Castillo, RN.
"With people and the planet under siege like never before, the public knows they can depend on nurses to use our collective power to advocate for our patients and the broader conditions that support health, justice and dignity for all people, especially the most vulnerable among us," said Castillo.
"As nurses we know that to defend our patients and realize our vision for a better world our advocacy must encompass union organizing and legislative action. Our efforts in both of these areas have been very fruitful this year," said NNU President Zenei Cortez, RN. 
Despite growing efforts to undermine nurses' ability to effectively advocate for their patients through union organizing, thousands of nurses voted in 2019 to join NNU affiliates, California Nurses Association (CNA), Minnesota Nurses Association (MNA), and National Nurses Organizing Committee (NNOC) in states across the country.
NNU's legislative advocacy also moved into high gear with introduction of the Medicare for All Act of 2019 - H.R. 1384, a bill that would guarantee comprehensive health care to all. Thanks to growing grassroots activist pressure in support of the bill, it now has 120 co-sponsors and was considered in legislative hearings by four key congressional committees.
"The public can count on nurses to stand up, show up, and speak up until the broken U.S. healthcare system is profoundly transformed," said RN and another NNU President, Jean Ross, who testified at a recent congressional hearing. "We will not settle for band aid-fixes. We want the real deal, comprehensive medical care for all, regardless of ability to pay."
Nurses are also celebrating the U.S. House of Representatives' bipartisan passage of a groundbreaking federal bill to protect health care and social service workers from extremely high rates of workplace violence—H.R. 1309, the Workplace Violence Prevention for Health Care and Social Service Workers Act. The bill is modeled after the gold-standard protections won previously by California Nurses Association/National Nurses United.
"This legislation will hold our employers accountable, through federal OSHA, for having a prevention plan in place to stop workplace violence before it occurs," said NNU President Zenei Cortez, RN. "This is literally a life or death issue for our patients, their loved ones, and the nurses and health care workers that care for them.
This year the Registered Nurses Response Network (RNRN), a disaster relief program sponsored by NNU and the California Nurses Foundation, deployed 20 teams of volunteer registered nurses from around the country to provide basic medical care to asylum seekers at border shelters. In follow up to these border deployments, RNRN has released the report, Compassion Without Borders: RNs Report on the Public Health Crisis at the Border. The report outlines the health crisis at the border and can be viewed here.
NNU members have also continued to speak out for environmental justice, endorsing enactment of a Green New Deal and calling on policy makers to seriously address the climate crisis. Nurses have seen firsthand the grave consequences of this crisis as volunteers participating in medical missions to communities devastated by hurricanes and wildfires. This year, RNRN sent volunteers to Florida and Grand Bahamas in the wake of Hurricane Dorian.
Photos from RNR's Hurricane Dorian mission can be viewed here.
2019 was also the year CNA/NNU organized the Global Nurses Solidarity Assembly in San Francisco, California. The convening brought together nurses, labor leaders, and activists from across the globe, including representatives from 25 countries.
"While we may be from opposite sides of the globe, we know that as nurses we share a common mission and are all bound by the same fundamental convictions: to heal the sick and injured, and fiercely advocate for the well-being of our patients, our communities, and our planet," said Bonnie Castillo, RN, CNA/NNOC and NNU executive director. 
To view a short video made for the international gathering, Global Nurses United in Solidarity, visit: https://vimeo.com/357727371/c97645e7d1