Press Release
National Nurses United Endorses Green New Deal and Ban on Assault Weapons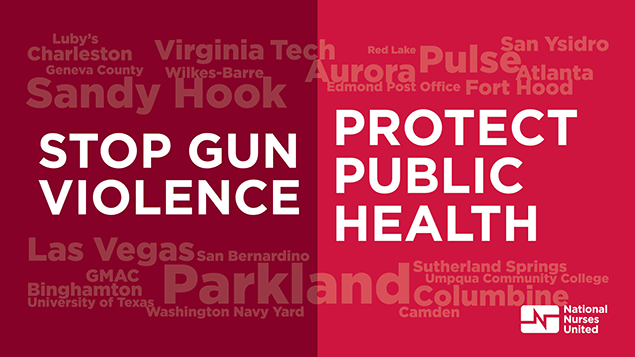 National Nurses United, the nation's largest union and professional association of registered nurses, Thursday endorsed enactment of a Green New Deal and a ban on assault weapons.
Passage of the resolutions came in a joint meeting of the leadership boards of National Nurses United (NNU) and the California Nurses Association/National Nurses Organizing Committee (CNA/NNOC) on the eve of a major Global Nurses Solidarity Assembly of more than 1,600 nurses being hosted by NNU and CNA/NNOC in San Francisco. CNA/NNOC is the largest NNU affiliate.
In calling for a comprehensive Green New Deal, NNU said it was a fundamental step to "tackle the crises of climate change and economic inequality."
"We are facing an existential climate crisis," said NNU President Deborah Burger, RN. "Nurses see the impact in patients harmed by super storms, wildfires, epidemics, environmental pollution, and other impacts of the climate crisis today. It is long past time to act in the most expansive way possible, while also protecting workers and communities that are affected today and in the years to come."
NNU, for example, has for more than a decade been sending volunteer RNs to communities affected by disasters exacerbated by climate change. Most recently, NNU has sent 16 RN volunteers to date, with more to come, to provide basic medical aid to those harmed by Hurricane Dorian. Several of them are currently on the ground in Grand Bahama island.
Climate experts have noted that the severity of Dorian, including the Category 5 winds, flooding, and other effects, was accelerated by warm ocean waters and rising sea levels.
NNU said it would favor a Green New Deal that would include major elements including:
A "complete transition away from using fossil fuels by 2035 -- shifting to 100 percent clean renewable energy production."
A ban on fossil fuel projects, including pipelines, deep sea drilling, tar sands extraction, and fracking, coupled with "substantial investment into solar, wind, and geothermal energy production."
A "fair and equitable just transition for workers from the fossil fuel industry" with guarantees for "a minimum of five years of continued compensation," including salary, health care coverage, pension contributions, as well as housing assistance, education, and job training and job placement for displaced workers.
Significant investments in frontline communities to prepare for climate impacts, as well as drawing the links to combatting economic inequality.
A Call to Ban Assault Weapons
In urging legislative action to ban the proliferation of assault weapons, NNU and CNA/NNOC board members emphasized how the growing calamity of mass shootings has become a significant public health crisis.
"Nurses all too regularly care for patients with gun injuries," noted Jean Ross, RN, another NNU president. "But the massive injuries we are seeing today that result when people are shot with assault weapons is very different because of the very nature of these weapons and ammunition. The only purpose of these weapons is to kill human beings."
"NNU has long defined public health and patient advocacy as the hallmark of our organization and our role as registered nurses. Protecting our patients, our families, and our neighbors endangered by mass shootings with assault weapons is a part of that advocacy," Ross said.
NNU leaders also noted how the increasing climate of hate makes mass shootings even more damaging by exacerbating fear, anxiety, and stress in the broader society.
In addition, NNU will follow up with a further analysis of public health impacts of gun violence.