Press Release
Nurses: Time to sharply ramp up health care capacity for COVID-19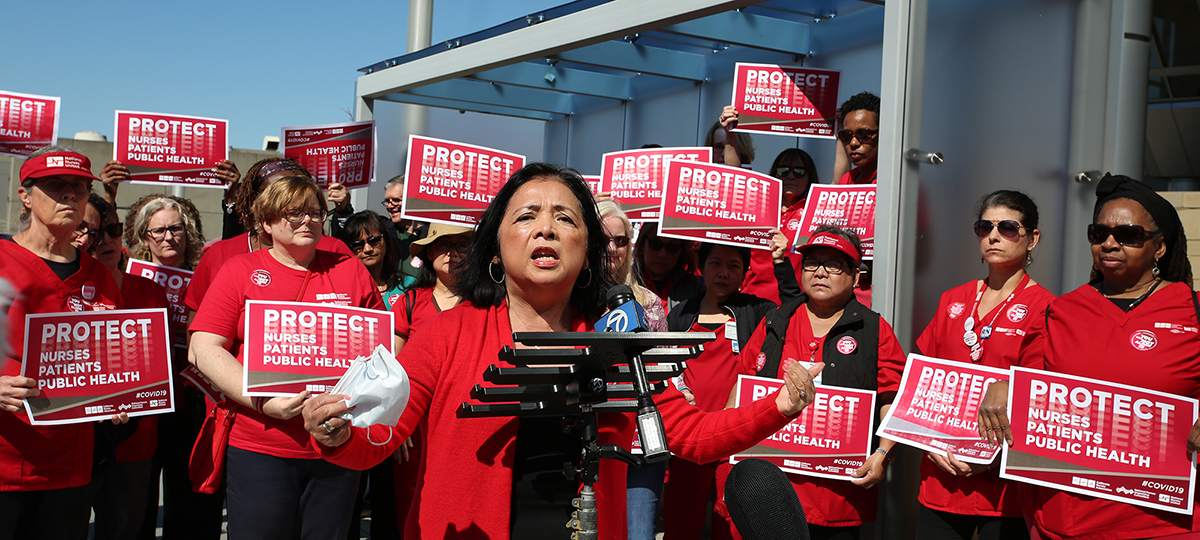 National Nurses United (NNU), the largest union of registered nurses in the United States, today called on an embattled nation to dramatically ramp up health care capacity in the face of the COVID-19 pandemic.
"Imagine we were at war. We are—with a pandemic," said NNU Executive Director Bonnie Castillo, RN.
Castillo noted the warning last week by a panel of leading immunologists, epidemiologists, and infectious disease researchers at the University of California San Francisco which predicted 40 to 70 percent of the U.S. population will be infected over the next 12 to 18 months.
"With a 1 percent mortality rate, the panel predicted up to 1.6 million people could die. That's more than the total of all Americans who have died in all U.S. wars," said Castillo. "Yet our health care capacity is far short of what we need to respond to this national emergency."
At present, Castillo noted, the amount of optimal personal protective equipment needed for nurses and other health care workers, is "drastically short of what is needed to stem the danger of becoming infected and exposing patients, family members, and other health care staff."
"Instead of rolling back standards, as the Centers for Disease Control and the American Hospital Association are proposing, we need to substantially increase the supply of the highest standard of protective equipment. That includes powered air purifying respirators, N95 respirators, and other proper protective clothing and gear," Castillo said.
One immediate step, she noted, should be the coordinated release and distribution of all state and federal stockpiles of personal protective equipment (PPE) for nurses and health care workers.
"For too long, 'just-in-time' hospital management practices have prioritized profits over stocking enough supplies and staffing enough nurses to safely care for patients, and this has eroded the ability of our nation's hospitals to properly prepare for emergencies like pandemics.
"We should also prioritize testing and paid quarantine for nurses and other healthcare workers who are exposed, to prevent the further spread of the virus and to meet the demand of a surge," said Castillo.
Various scenarios project up to 21 million people in the United States may need hospitalization, at a time when the country has only 925,000 hospital beds—less than half the per capita-rate of comparable countries. And if nurses and other health care workers are not protected, nurses emphasize, the hospital beds will not be staffed.
The shortage extends to ventilators, negative pressure isolation rooms, and intensive care beds, critical for treating COVID-19 patients. 
To expand health care capacity, NNU recommends the following steps:  
Re-open all hospitals closed in the past five years (more than 120 since 2015), many of them in medically underserved communities. Bar the closure of any additional hospitals. 
Convert some current consumer production to medical equipment, as China has done, including ventilators and the highest standard level of personal protective equipment for health care workers. At the onset of World War II, the Roosevelt Administration directed auto factories to immediately shift from car production to making tanks, airplane engines and other war materials.   
Fund construction of new hospitals and other medical facilities, including community health centers, and mass production facilities for personal protective equipment and ventilators, which will also create employment opportunities at a time when many are losing jobs due to the virus-related economic crisis. 
Implement immediate free medical education and training in public colleges and high schools for new registered nurses and other health care workers, without lowering licensing or professional standards. 
NNU also endorses steps to reduce the spread of the virus, remove financial barriers to care, protect the most vulnerable populations, and other steps to reduce the scope of the pandemic.
Free COVID-19 tests, free medical care for all COVID-19 patients, including for undocumented people, the homeless, and the incarcerated. 
Free COVID-19 vaccinations when the vaccine is available.  
Prioritize testing and access to care for people in nursing homes, assisted living centers, and rehabilitation and mental health facilities. 
Guarantee emergency pay for anyone who needs to quarantine due to suspected infection, and paid family and medical sick leave for up to three months. 
Stop immigration raids that discourage people from seeking testing and medical care. 
Escalate international cooperation to share effective strategies for care, including medical treatment. Work with other nations to rapidly develop a COVID-19 vaccine that can be shared globally.