Press Release
Nurses Testify in Support of Maryland Single-Payer Bill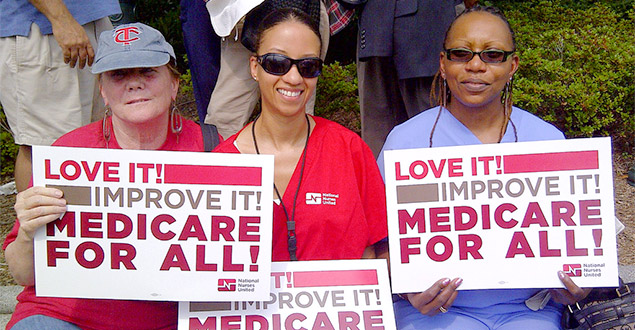 Annapolis – The Co-President of National Nurses United, the nation's largest union of registered nurses, testified today in the Maryland House of Delegates Health and Government Operations Committee in support of the Healthy Maryland Act HB1002/SB1516), a bill that would institute Medicare-for-all, single-payer health care legislation in the state.
"At a time of turmoil in health policy, and increasing healthcare insecurity, Maryland can once again lead by guaranteeing healthcare for all.  In the most personal area of our lives, we can provide peace of mind. It's time for Healthy Maryland," said Jean Ross, RN, Co-President of National Nurses United. "Guaranteed healthcare for all will also have an enormous, positive ripple effect throughout the economy. It will mean more jobs for people in clinical health care, it will mean less lost work time for illness as more people get preventive care before they get sick, and get care in a timely manner when they get sick, all of which creates more productivity in the economy, specifically more economic activity that generates increased tax revenue."
All residents of Maryland, regardless of where they work, will be automatically enrolled in the program, and receive benefits on a non-discriminatory basis and without regard to pre-existing conditions.  This program eliminates all insurance company premiums, deductibles and co-pays. All medical benefits currently provided under public programs, and benefits comparable or better than those available under employer-sponsored plans, shall be provided including dental, vision, and prescription drugs.
"As a patient advocate, I consider it my duty to fight for a system that guarantees health care for everyone.  That's why nurses support the Healthy Maryland Act," said Judy Alba, a registered nurse from Prince George's County, Md., and a member of National Nurses United.  "Every day at hospitals and clinics around the state, bedside nurses care for patients who have delayed care because of lack of insurance or because patients don't have insurance or cannot utilize the insurance they have because of high deductibles and co-pays.  That's wrong, and it costs the patients and society more in the long run."
The Maryland Senate Finance Committee, which will consider the Senate version of the Healthy Maryland Act introduced by Sen. Paul Pinsky (SB 1516), will have a hearing on the bill, on March 7.
National Nurses United has been joined by groups across the state in supporting the Healthy Maryland Act, including: Our Revolution Maryland, UFCW Local 400, SEIU 32BJ, UFCW Local 1994, 1199 SEIU United Healthcare Workers East, CASA, UNITE HERE Local 7, American Postal Workers Union, SEIU Local 500, Maryland Working Families, Chesapeake Sustainable Business Council, Maryland Consumer Rights Coalition, Women's Law Center of Maryland, Public Justice Center, Progressive Maryland, Food & Water Watch, Progressive Democrats of America, Labor Campaign for Single Payer, BMWED Local Lodge 3075, BMWED Local Lodge 3005 and the Maryland Chapter of the National Lawyers Guild.