Press Release
Nurses Support Steelworkers Oil Fight for Fair Refinery Contract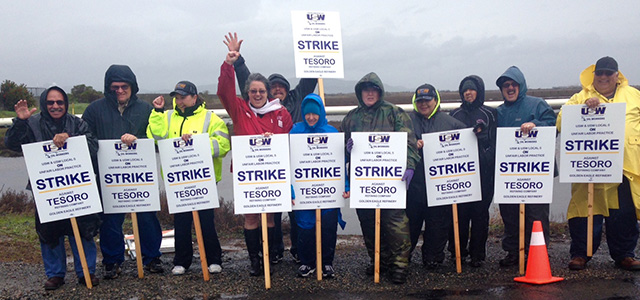 Worker, Public Health and Safety a Concern for Everyone, say RNs
National Nurses United fully supports the United Steelworkers Union (USW) struggle for improved health and safety and a fair contract for workers at oil refineries across the U.S.
NNU is especially alarmed at the serious threat for workers and residents of local communities near the refineries posed by unsafe staffing levels, excessive worker overtime demands, and the reports of daily occurrences of fires, emissions, leaks and explosions that put tens of thousands of people in danger. 
Nurses are well aware of the rise of asthma and other respiratory, cardio, and other serious health problems, as well as the consequences of refinery accidents caused by unsafe oil company and refinery practices. That is why it is so vital for workers to have a strong voice on the job through their union to protect public safety as well as the health of their own members.
NNU also supports the USW fight against sub-contracting of union jobs and other contract standards that are a part of this dispute.
The hard line adopted by the wealthy oil corporations is symbolic of what nurses and other working people experience on a regular basis in an environment where workers' rights and livelihood as well as public health and safety are too often jeopardized by voracious employers and the politicians who support them.  
NNU members have already stood with USW members on picket lines at various locations in this fight, and we will continue to offer our solidarity. We also call on our elected officials to demand the oil giants, who receive so much economic and political assistance from government, stop their attack on the oil workers and reach a fair settlement that respects the workers' rights as well as public safety.