Press Release
Nurses Statement on Las Vegas Mass Shooting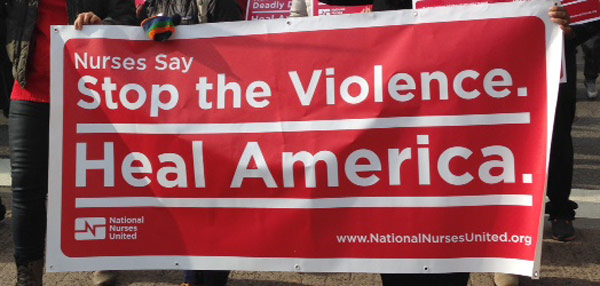 'It's Time for Condolences, Reflection and Action'
National Nurses United today joined the national response of shock and horror at the deadly mass shooting in Las Vegas Sunday night, with a call for condolences, reflection and action.
"As nurses, our first thoughts are for the people who died and were wounded in this shooting and their families. No one should ever be the target of violence in a civil society," said Bonnie Castillo, RN, director of Health and Safety for National Nurses United.
NNU said there were nurses at the concert, and it is following up with members to assess who might have been affected by the tragedy.
"Second, we honor the first responders and caregivers who ran into the path of danger to protect others, and the nurses and other medical staff in hospitals around Las Vegas who are engaged in the healing process for the more than 500 people wounded," said Castillo.
"We know that with such massive numbers of people affected, it can be traumatic for the healers as well to assure that the wounded get proper and immediate care for both their physical and psychological injuries. Recovery for both those harmed, and those caring for them, is critical."
Finally, Castillo added, "as a nation, we must fully reflect on why we see such repetition of these horrific mass shootings, year after year after year."
"But with reflection, must also come action," Castillo continued. "It is long past time for our elected leaders to act, to bring a halt to the unregulated proliferation of deadly, military-style assault weapons that put everyone in danger. This is senseless, and must end."