Press Release
Nurses stand with striking writers, actors in fight against AI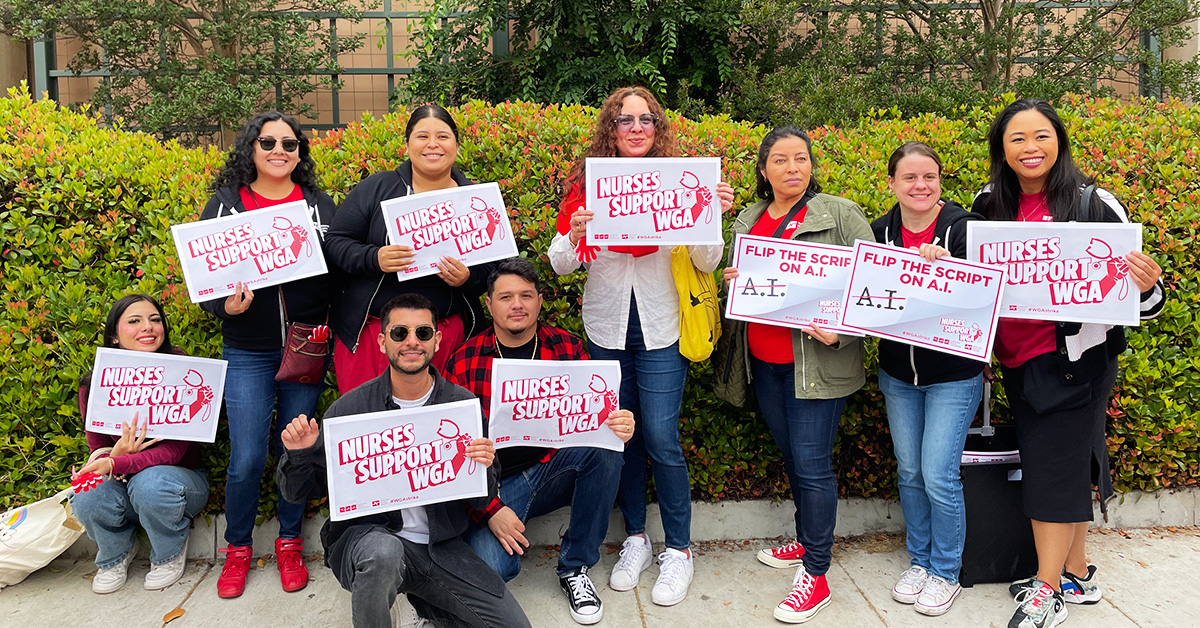 Registered nurses will hold a solidarity march and rally in Los Angeles, Calif. on August 29 in support of striking actors and writers, announced California Nurses Association/National Nurses United (CNA/NNU). The event signals a labor movement increasingly united against the threat of artificial intelligence (AI) technologies.
"By taking the powerful and courageous step to strike, writers and actors are challenging the flawed assertion that AI's advance is inescapable or that it cannot or should not be regulated to serve the interests of workers," said Cathy Kennedy RN, president of CNA/NNU.
Around 200 nurses are expected to be in attendance carrying signs that say "Flip the script on AI."
Kennedy continued, "As Wall Street and corporate executives advance AI into our workplaces, labor solidarity is more important than ever to protect the humanity fundamental to our professions. Otherwise, AI will simply be a tool that serves corporate greed, at the expense of our livelihoods and our values – whether it's creating beautiful art or delivering therapeutic health care."
What

:

RN solidarity march with striking SAG-AFTRA and WGA members 

When:

Tuesday, August 29 at 10 a.m. PT 

Where:

1456 N Van Ness Ave., Los Angeles, CA 90028
Amidst an unprecedented staffing crisis in hospitals across the country caused by the health care industry's own bad practices, CNA/NNU is alarmed by the increasing use of artificial intelligence (AI) technologies and its impact on its members' ability to provide quality patient care.
"AI technologies can neither replace hands-on attention and skill from nurses nor solve the staffing crisis," said Sandy Reding, president of CNA/NNU. "Nurses across the country are demanding solutions like safe staffing, resources including personal protective equipment and adequate training, and union representation to advocate for better conditions so we can proudly deliver the best quality care to our patients. In our fight to improve patient care, we will not cede our profession to the false solution of unchecked and unregulated technology."
---
California Nurses Association/National Nurses United is the largest and fastest-growing union and professional association of registered nurses in the nation with 100,000 members in more than 200 facilities throughout California and nearly 225,000 RNs nationwide.