Press Release
Nurses Stand Up in Climate March Actions Across the Country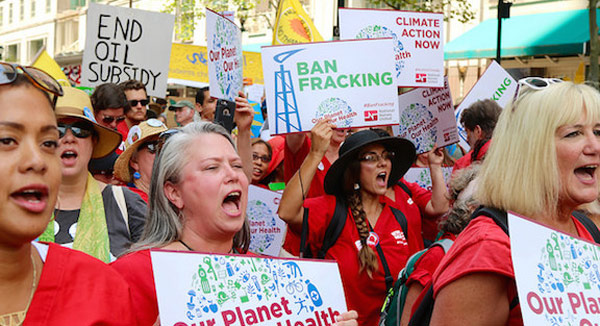 From D.C. to Oakland, RNs Say "Environmental Justice is a Public Health Issue"
Registered nurse members of National Nurses United (NNU) will join with thousands of others across the nation in climate march actions this Saturday, April 29, calling particular attention to how climate change and environmental pollution threaten the health and safety of their patients.
"As patient advocates, nurses know that it's our duty to follow the path of a public health crisis out into the world, where it begins, and to fight for environmental justice to prevent our patients from becoming sick or injured in the first place," said NNU co-president Jean Ross, RN, who will be attending the People's Climate March in Washington, D.C. "That's why we'll be standing up all across the country this Saturday and demanding an end to corporate projects that poison the environment, that jeopardize the climate, and that put private profit over the health of people and the planet."
NNU nurses will take part in Climate March events in the following cities: Washington, D.C.; Oakland, Los Angeles, and San Diego, Calif.; Tampa and Hollywood, Fla., El Paso and Austin, Texas; Kansas City, Kansas; Chicago, Illinois; Twin Cities, Minn; and Augusta, Maine.
"As a nurse, I see climate change as a public health disaster and an ethical crisis. Nothing we are seeing unfold in front of us was inevitable. It has resulted from a series of short-term decisions for short-term gain at the expense of everyone and everything else," said Lara Norkus-Crampton, RN, of Minneapolis, Minn., who has been active in protesting the impact of a local incinerator on her patients, and who will be marching on Saturday.
Norkus-Crampton is just one of many NNU registered nurse members across the country who has been standing up for environmental justice. For years, NNU nurses have spoken out against the Keystone XL Pipeline. NNU's Registered Nurse Response Network (RNRN) also deployed to the Standing Rock Sioux Reservation in North Dakota three times in 2016 to stand in solidarity against the Dakota Access Pipeline (DAPL) and to help provide first aid for the water protectors.
Additionally, NNU nurses have taken part in actions against Maine's Portland Pipeline (where they played a key role in securing the Clear Skies Ordinance to halt the project), Florida's Sabal Trail pipeline, the Trans Pecos and Montana Vista pipelines in Texas—as well as doing anti-fracking work in various states, speaking out against the dangers of oil "bomb" trains and uncovered coal trains to patients, advocating for clean water from Flint, Mich. to Standing Rock, and attending protests, rallies and marches all across the country.
"At this point, I believe that if you are not willing to be part of the solution then you are simply part of the problem," said Norkus-Crampton. "We all have to do our part. I am proud of the nurses working towards the health of our planet and the health of all who rely on it."
More reasons why nurses are taking part in Saturday's Climate March:
"Climate change is the most critical healthcare issue of our time. We owe it to our patients, our communities, our country, and our planet to fight back with all our united energy against the forces that would ravage our home and threaten all of earth's inhabitants with extinction. This is the fight of our lives and nurses will not back down!"—Judy Lerma, RN, San Antonio, TX
"The climate crisis is real, and we cannot sit around and do nothing while our planet is being destroyed for corporate profit. It is imperative that we fight for the future of our children and our children's children."—Dahlia Tayag, RN, San Diego, Calif.
"The destruction of our planet for profit is the worse kind of selfishness and greed. If we are not able to stop this from happening nothing else matters. My voice is all I have, I can't sit by and watch it happen without doing my best to fight against it."—Doreen McIntyre, RN, Minneapolis, Minn.
"As a registered nurse in the Kansas City area, the heartland, I feel it's my professional responsibility to protect the environment for my patients. Maintaining clean air and water resources is all of our concerns. In my community, we experience alarming levels of air pollution resulting in increased respiratory diseases and an infant mortality rate 30% higher than the national average. This is why I march."—Pam Darpel, RN, Kansas City, Kansas
"I am marching for climate justice, for the health of our earth, our communities and all of life. Too many people are already living with the effects of climate change and pollution. This is more than another issue—all life depends on us working together to reduce CO2 emissions. I live in El Paso, TX where we are working with other groups to protect our water from fracking and the extension of oil and gas pipelines into our communities. There is a lot to do to achieve environmental justice."—Sylvia Searfoss, RN, El Paso, TX
National Nurses United is the largest union and professional organization of registered nurses in the country, with over 150,000 members nationwide.