Press Release
Nurses seek OSHA sanctions on HCA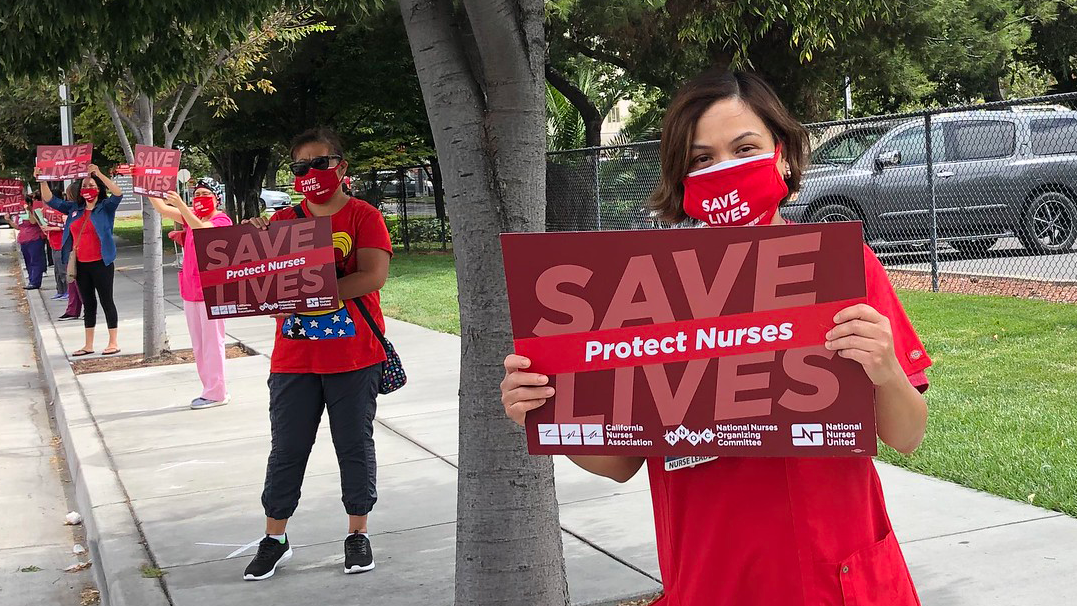 Unsafe conditions threaten serious harm or death
National Nurses United (NNU) today called on the federal Occupational Health and Safety Administration (OSHA) to inspect all HCA-owned-and-operated hospitals and issue citations against the hospital giant for "willful violation" of workplace safety hazards, which NNU warns "could reasonably be expected to cause death or serious physical harm."
NNU urged OSHA to seek a federal court injunction to order HCA to immediately abate the dangerous conditions, including failing to notify workers when they've been exposed to COVID-19 and pushing those who are or may be COVID-19 positive but not showing active symptoms to continue working. Ultimately, fines for willful violation of up to $134,937 per facility could be leveled, or up to nearly $2.3 million if applied to all the facilities named in the complaint.
Such unsafe behavior, warns NNU in the complaint, not only leads to spread of the virus amidst a still surging pandemic, but "as a result, nurses and other health care workers at HCA facilities are in imminent danger of serious physical harm or even death."
"Six months into a virulent pandemic, the science has proven how unsafe conditions put frontline caregivers at extreme risk; that is the backdrop to the COVID-19 deaths of more than 1,500 health care workers, including nearly 200 RNs," said Malinda Markowitz, RN, president of the National Nurses Organizing Committee, an NNU affiliate which represents HCA RNs.
"HCA's callous disregard for the safety of the nurses and their co-workers who have put their lives, their coworkers, and their families on the line every day, is deplorable," Markowitz continued. "They must be held accountable."
In the complaint, NNU cites 17 HCA facilities in Florida, Kansas, Missouri, North Carolina, and Texas affected by the dangerous conditions (see full list below).
An RN at Osceola Regional Medical Center in Kissimmee, Florida, identified as "RN Doe" in the complaint became ill with COVID-19 after contact with a nursing assistant who, the RN only learned through word of mouth, was later confirmed COVID-19 positive. At no point, she said, did the employer notify RN Doe of her exposure even though HCA knew the nursing assistant worked with her shortly before quarantining due to the coronavirus.
In mid-June, she began exhibiting symptoms of COVID-19 including digestive issues and loss of her senses of smell and taste. The complaint states, "The employer denied her request for a COVID-19 test on the grounds that she was not exhibiting fever, shortness of breath, or cough." On or about June 21, "RN Doe was forced to seek out a test at a public testing site on her own. Despite knowing her symptoms, her manager continued to put her on the schedule. On or around June 23, Ms. Doe received her test result—she was positive for COVID-19."
"After 14 days of quarantine, the Employer's Employee Health department instructed her to come back to work if she was asymptomatic, irrespective of whether she was still COVID-19 positive," continues the complaint. "RN Doe sought out another COVID-19 test on her own, and once again tested positive. Her doctor extended her sick leave, and indeed, she is still very ill."
At Mission Hospital in Asheville, North Carolina, several RNs performed aerosolizing procedures without appropriate personal protective equipment (N95 respirator masks) on a respiratory failure patient confirmed to be COVID-19 positive shortly thereafter. According to the complaint, HCA and Mission have failed to test—or in many cases, even notify—all nurses who were exposed to COVID-19. In another instance at Mission, RNs in the Neurology Unit worked closely with a technician confirmed to be COVID-19 positive. HCA and Mission failed to notify these nurses of their exposure. When one RN notified the employer that she had been exposed and sought out testing, her request was denied.
These are not isolated cases, the complaint notes, "HCA Healthcare maintains uniform policies and practices across its facilities, including those that cause asymptomatic COVID-19 positive employees to expose their colleagues to the virus. As of at least July 20, 2020, HCA has maintained and disseminated a written policy causing asymptomatic employees to continue working despite confirmed exposure to COVID-19."
At Fawcett Memorial Hospital in Port Charlotte, Florida, one HCA Employee Health staff member admitted, "We know nurses will be positive, so we're not testing them."
"HCA's efforts to notify workers of exposure are inconsistent, at best, and negligent, at worst," the complaint asserts. "HCA is effectively causing an unknown number of workers who have COVID-19 to continue working while contagious, unwittingly spreading the coronavirus to their colleagues and patients."
"Even when nurses become aware of an exposure to COVID-19 either via informal contact tracing or, in rare cases, through HCA staff, HCA refuses to test asymptomatic employees for COVID-19, further compounding the problem of COVID-19 spread in its workplaces."
The complaint emphasizes how a hospital environment becomes a hot spot when employers like HCA fail to ensure safe workplace conditions. RNs regularly must share space and equipment like computers, cabinets, desks, phones, bathrooms, and nursing stations. Moreover, RNs share breakrooms, where people generally have their masks off because they are eating or drinking. It is virtually impossible to maintain social distancing during certain protocols and procedures, such as patient lifts and baths. Some routine patient care tasks can last for at least 15 to 45 minutes, and they require prolonged contact between workers. There is a high likelihood that nurses may contract COVID-19 from asymptomatic co-workers.
HCA is the wealthiest hospital system in the U.S. It made $1.1 billion in profits in the second quarter of 2020, and it received $1.4 billion from the CARES Act as well as an additional $300 million since June 30.
HCA hospitals cited in the complaint:
Blake Medical Center, Bradenton, Florida
Oak Hill Hospital, Brooksville, Florida 
Osceola Regional Medical Center, Kissimmee, Florida 
Largo Medical Center, Largo, Florida 
Fawcett Memorial Hospital, Port Charlotte, Florida 
Central Florida Regional Hospital, Sanford, Florida 
Doctors Hospital of Sarasota, Sarasota, Florida 
Northside Hospital, St. Petersburg, Florida 
St. Petersburg General Hospital, St. Petersburg, Florida 
Medical Center of Trinity, Trinity, Florida 
Menorah Medical Center, Overland Park, Kansas
Research Medical Center, Kansas City, Missouri
Mission Hospital, Asheville, North Carolina
Valley Regional Medical Center, Brownsville, Texas
Corpus Christi Medical Center, Corpus Christi, Texas 
Del Sol Medical Center, El Paso, Texas
Las Palmas Medical Center, El Paso, Texas
National Nurses United is the largest and fastest-growing union and professional association of registered nurses in the United States with more than 155,000 members nationwide.