Press Release
Nurses say lifting CA stay home orders puts patients, nurses, health care workers at risk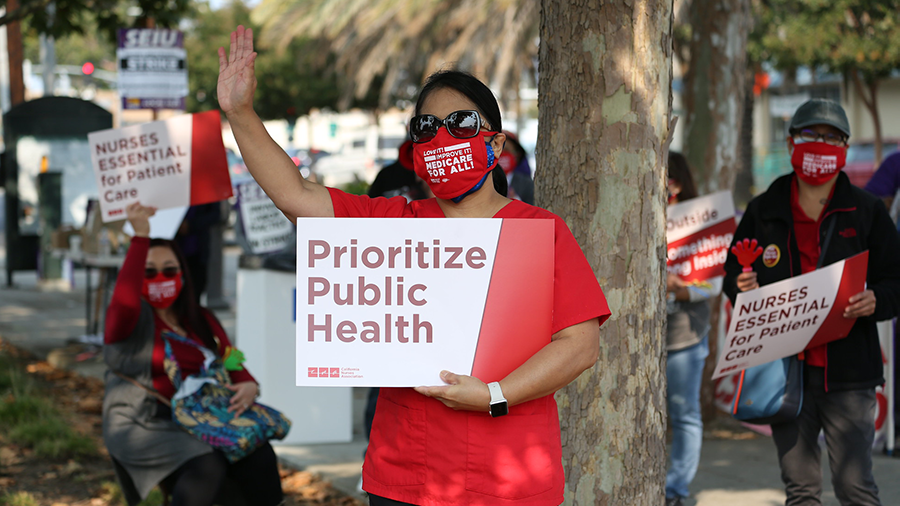 The California Nurses Association (CNA), the largest union of registered nurses in California, condemned the news this morning that the state's mandatory stay at home order would be lifted, with counties moving back into the color-coded, tiered reopening system.
CNA released the following statement:
"Registered nurses across the state of California know that there is a human cost to lifting stay at home orders too soon. Let's be clear that even if numbers are 'trending downward,' we are still in the midst of the most deadly surge of Covid-19 yet. RNs have seen more patient death in the past few weeks than we have seen at any other point in our careers, and as frontline workers, we know better than elected officials and business leaders that it is not time to let our guard down.
Nurses across the state of California continue to work inside of a nightmare. Many of our facilities are still today violating the state's safe nurse-to-patient staffing law and assigning RNs too many patients to safely care for at once, citing the surge. As of Sunday, nearly 82,574 health care workers across the state had tested positive for Covid-19, and we have lost 324 California health care workers since the start of the pandemic. When nurses and health care workers aren't safe, patients aren't safe, and we cannot afford to lose one more frontline caregiver.
A new, more contagious strain of the SARS-CoV-2 virus has also recently been identified in California, making now an especially concerning time to lift stay at home orders. According to the LA Times, 'Researchers at Cedars-Sinai Medical Center in Los Angeles found that although the strain had been barely detectable in early October, it accounted for 24% of roughly 4,500 viral samples gathered throughout California in the last weeks of 2020.' The emergence of more transmissible variants underlines the importance of taking steps to prevent transmission. Ultimately, all viruses need hosts to survive and spread, so no matter how this virus mutates, we need to keep using the measures that prevent transmission: staying at home, not gathering with others outside your household, and fully protecting nurses and other essential workers.
Nurses call on state leaders to prioritize people over profits, and we urge the public to listen to nurses and continue following the stay at home orders. Anything less now would only increase suffering and death for people across California, including the nurses and other health care workers who are critical to getting Covid-19 under control."