Press Release
Nurses to Santa Clara Supervisors: Conditions at HCA Regional Putting Moms, Babies at Risk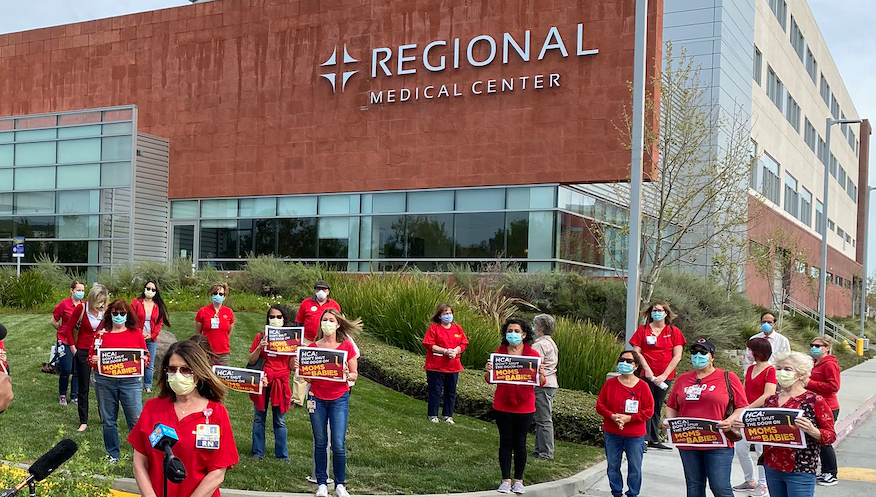 In a letter to Santa Clara County Supervisors today, the California Nurses Association warns that multiple reports of serious incidents following the closure of maternal child services at HCA's Regional Medical Center of San Jose in May is putting the safety of patients at risk.
With birthing mothers now having to deliver their newborns in Regional's Emergency Room, rather than a dedicated unit for deliveries, post-partum and neo-natal intensive care on site, widespread problems are occurring, including inadequate staff training, unavailability of critical life-saving equipment at night, and unsafe delays in transport to other hospitals.
The nurses are requesting the County take action to protect the community, as a follow up to the County's warnings in early June that HCA and Regional may be jeopardizing its Level II Trauma designation agreement with the county. (Copy of letter available upon request)
"HCA is not living up to its promises to the public and the County when they rushed through the closure," said CNA President Malinda Markowitz, RN. "HCA should immediately restore full Women's Services at Regional to protect East San Jose residents or face substantial penalties."
Key concerns, based on the testimony of direct care RNs, cited in the letter include:
Unsafe RN staffing

. Prompted by both the downsizing of Emergency Department RNs and the layoff of Labor and Delivery RNs following the closure. Expectant mothers seen in the ER, especially those arriving in trauma conditions, are more likely to experience complications that require specialized attention than those who would have formerly gone to the hospital's long-established birthing unit. Yet now there are fewer experienced staff. Also, an obstetrician is only available on a contingency basis.

Lack of proper clinical training and experience for ED RNs and physicians

. RNs had to press the hospital for weeks to provide Neonatal Resuscitation Program training, and some were even told to seek it on their own. Nurses report occasions where mistakes have been made with various staff who did not have the relevant training, including incorrect doses of medication administered, problems with intubating babies, and in one case an ED doctor having to watch a YouTube video for instructions while delivering a newborn.

 

Multiple problems with transferring patients to other hospitals. 

Patients have had to wait up to five hours for transfer while waiting in an ED where COVID-19 patients are present. On more than one occasion, nurses had to intervene to prevent mother and baby couplets from being split up and sent to different hospitals. Poor communication with other facilities where patients

are

being sent. Nurses from HCA's Good Samaritan Hospital across town have voiced concern about Regional staff assessments of whether patients can be safely transported. All of these problems can be dangerous.

Missing life-saving equipment

. Equipment, especially at night, has often been unavailable to nurses and doctors, including fetal monitoring devices, umbilical venous catheters, intubation kits, peripheral intravenous kits, and infant warmers, often locked up without access for ED staff.

 

Management failure to ensure compliance with safety protocols

. These include safety protocols on transferring patients, fetal monitoring, placement of patients, even operating room procedures for emergency cesareans.

Lack of community outreach.

 

Expectant mothers still arrive at the Regional ER, along with family members, who were not aware of the cessation of maternal-child care services.
"It is only a matter of time before tragedy strikes," the letter concludes. "We urge the Board of Supervises to act before it is too late; we ask that County health officials take all measures necessary to ensure Regional Medical Center come into compliance with its obligation under the law and its agreement with the County. The preferred measure would, of course, be to reopen the closed services the community has relied on for years."
For several weeks, nurses have raised similar concerns, warning that with the closure expectant mothers arriving in the ER would face risks.
That is particularly a concern, nurses have said, in the event of complications, which can rapidly turn life-threatening, especially with the lack of fetal monitoring in the ER and the elimination of neo-natal care. Transferring a patient in distress to another hospital along San Jose's congested roads also delays timely care.
"To protect East San Jose women and families who have long counted on this hospital for birthing care, HCA should demonstrate its commitment to the community by restoring full maternal-child care, at Regional," said California Nurses Association President Malinda Markowitz, RN.