Press Release
Nurses to greet Frist Art Museum Gala celebrants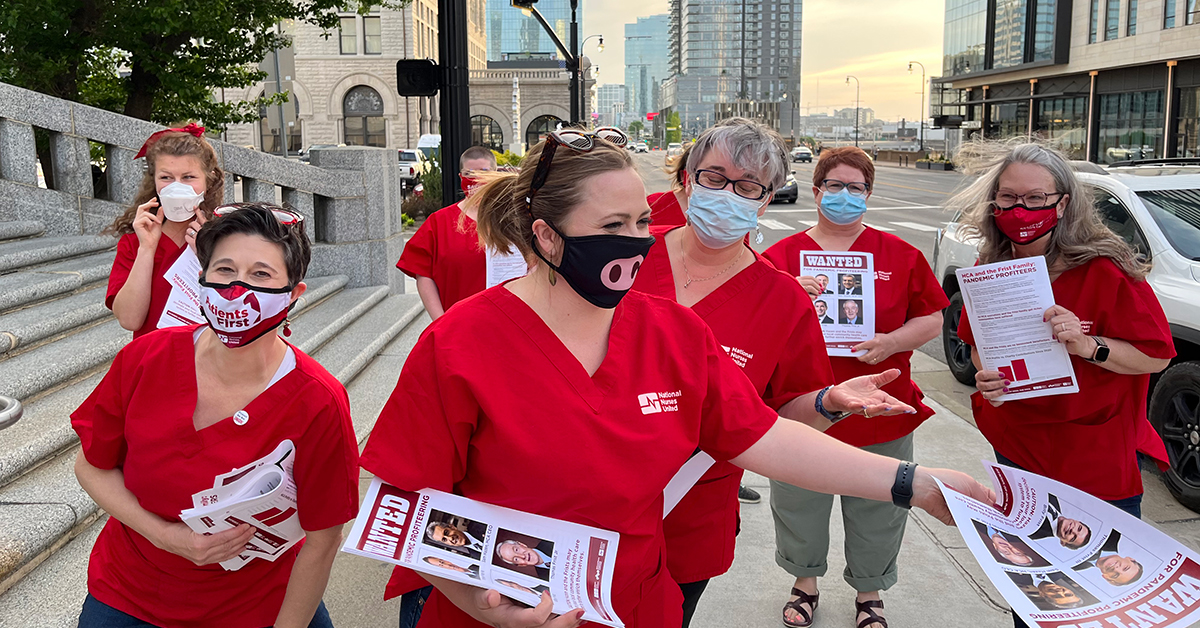 Providing a reminder of HCA pandemic profiteering at the expense of local communities, nurses, and health care workers
Celebrants to the black tie 2022 Frist Gala at the Frist Art Museum in Nashville today will be greeted by nurses with a reminder of the less-than-celebratory record of the Frist family and the health care corporation it cofounded while reaping enormous profits during the Covid-19 pandemic. The Frist family are the underwriters of the gala.
In addition to its nurse members handing out informational flyers to gala attendees, National Nurses United is also sponsoring a mobile billboard that can be seen around Nashville today.
"We are requesting the patrons of fine art to encourage Thomas Frist, Jr. and his family to use their enormous influence within HCA Healthcare to encourage using its vast wealth to invest in improved patient care and workplace protections for nurses and other health care workers, and end its cuts in services for local communities," said Kansas City HCA RN Jennifer Caldwell.
The Frist family are the founders and biggest shareholders, owning over 20 percent of stockholder shares, of HCA, the largest for-profit hospital conglomerate in the United States. From March 2020 to March 2021, the Frist family more than doubled its personal wealth from $7.5 billion to $15.6 billion.
HCA also recorded nearly $7 billion in profits in 2021 during the pandemic.
Yet as the pandemic has raged, NNU notes, the company has closed hospitals and maternal health departments, cut staffing while eliminating rural cancer care and primary care clinics in an Asheville, N.C. hospital, and reduced staffing levels to such a dangerous degree at a San Jose, Calif. hospital that it received a notice of termination from the Centers for Medicare and Medicaid Services.
HCA has also been repeatedly fined for violating federally mandated Covid-19 safety protocols, including failing to report a hospital-contracted Covid case that resulted in the death of a nurse.
"For two years of the worst global pandemic in a century, as nurses have risked their lives and the safety of their families to care for gravely ill and, too often, dying patients, HCA has repeatedly cut corners on hospital safety, increasing the risk to our patients and our communities," said Madison Bhagalia, an HCA RN in Kansas.
"As nurses have spoken out for months about inadequate PPE and having to reuse single-use equipment like masks and gloves, HCA has disgracefully cut supply costs by $112 million," added HCA RN Juan Anchondo, who works in El Paso, Texas.
Inadequate staffing has become so endemic in HCA hospitals that at many of its facilities, nurses have left due to deplorable working conditions. The impact on patient care is apparent.
Central line-associated bloodstream infections, a common indicator of understaffing, increased by 60 percent at many HCA facilities. This was more than double the increase nationally. Catheter-associated urinary tract infections, another common indicator of understaffing, increased by 43 percent at many HCA facilities, both in 2020.
"Thomas Frist and his family should show the same commitment to our patients, those who care for them, and the communities who support their facilities and generate the astronomical wealth HCA and the Frist family have accumulated," said Nicole Taylor, an HCA Las Vegas RN.
The Frist Art Museum, which has Frist-related foundations manage its investments, has a role to play in pressing HCA as well, says NNU. Billy Frist, the chair of the Frist Art Museum and HCA executive board member, has remained silent as HCA has eroded community health care systems, cut patient services, and undermined safety protocols.
"At a time when almost one million people in the United States have died in this pandemic, we all have an obligation to prioritize public safety, even those who invest and support institutions that are major contributors to the health care industry. That is our message to Frist Gala donors today," said Florida HCA RN Marissa Lee.
National Nurses United is the nation's largest and fastest-growing union and professional association of registered nurses in the country, with more than 175,000 members nationwide.