Press Release
Nurses Redouble Commitment to Provide Critical Medical Aid to Migrants and Asylum Seekers as Details Emerge of Inhumane and Brutal Conditions in Federal Detention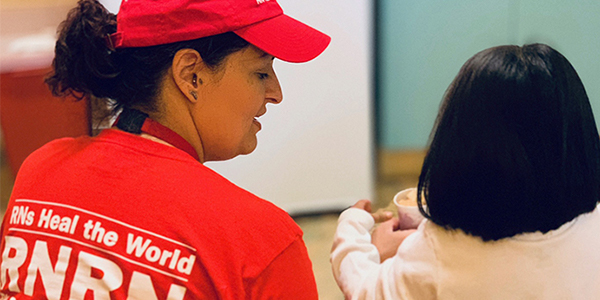 Nurses available for interview from July 5 through July 8, 2019
As further details emerge about the deplorable conditions children separated from their families and loved ones at the border are facing in federal detention, registered nurses with the Registered Nurse Response Network (RNRN) are returning to a Tucson, Ariz. shelter to provide critical medical aid for asylum seekers.
 "In light of the recent reports on the dangerous, inhumane, and illegal conditions facing migrant children and families in federal custody, RNRN and National Nurses United (NNU) is calling for the swift reunification of families and an end to the unconscionable practice of separating children from their family members at the border," Bonnie Castillo, RN, and executive director of National Nurses United. "Registered nurses are redoubling their commitment to provide compassionate and professional medical care to those who are fleeing violence in their home countries and seeking safe refuge for their families."
A team of registered nurses will deploy to the Casa Alitas shelter in Tucson from July 5 through July 8, 2019. RNRN has been deploying nurses to the shelter since February.
Maria Rojas, a registered nurse from Tampa, Florida who deployed to Guatemala on a medical mission earlier this year, will be returning to Casa Alitas for a second time.
During her first deployment to Tucson, Rojas said asylum seekers described terrifying violence in their home countries including the murder of a father who tried to keep gang member from recruiting his teenage son, and a family's escape from their village after extornionists killed their two neighbors and left their bodies in front of the family business.
"It is horrible what these people are running from," said Rojas. "I am telling you the sound of their voices, the anguish on their faces, you can't make that up. I want people to know that these asylum seekers are running from horrific things that are happening in their lives. And it is not that they don't want to say in their homes, because they do. They just feel that they can't live there safely anymore, they can't raise their families in a safe environment, they can't live there without fear." 
Recent media reports and lawsuits have outlined the unsanitary, dangerous and brutal conditions threatening the health and well-being of children and asylum seekers at the federal border detention facilities.
According to reports by attorneys, young children are being forced to care for toddlers, are not given adequate water or food, often forced to sleep on concrete floors in freezing cages with the lights on 24 hours a day. In addition, attorneys describe conditions that are woefully unsanitary, where children are rarely allowed to shower, bathe, or wash. As a result, the majority of children are suffering from respiratory illnesses and active lice and flu outbreaks. As of now, six migrant children have died in federal custody.
These accounts mirror the stories RNRN volunteers heard from migrants who sought refuge at the shelter in previous months.
"Virtually every woman, man, and child we treated who had come out of federal detention suffered from some sort of respiratory illness, dehydration, and was very hungry," said Cathy Kennedy, an RN volunteer and NNU board member. "The treatment these families received in detention was inhumane." 
"Nurses know that when we tear children from their mothers, their fathers, their sisters, brothers, aunts, and uncles and throw them into cold cages, without adequate food, water, or the support of an adult, we are causing harm, and lasting trauma," said Castillo. "We are failing to uphold basic human rights when we refuse to provide the bare minimum to keep a scared child warm, fed, and safe. As nurses, we have a moral obligation to demand that our government treat all people with compassion and respect and provide them with the medical care they need and deserve as their very lives, and the lives of their children, hang in the balance."
RNRN volunteer nurses have cared for thousands of patients during disaster relief and humanitarian assistance deployments that include the South Asian tsunami (2004); Hurricanes Katrina and Rita (2005); the Haiti earthquake (2010); Super Typhoon Haiyan/Yolanda (2013); Continuing Promise with the Department of Defense (2010, 2015); Hurricanes Harvey and Maria (2017); Volcan de Fuego Relief in Guatemala (2018), Hurricane Michael (2018); and the Camp Fire in Butte County, Calif. (2018); and ongoing deployments to the Arizona border to provide medical care to asylum seekers (2019).