Press Release
Nurses to Rally at Women's Marches Across the Nation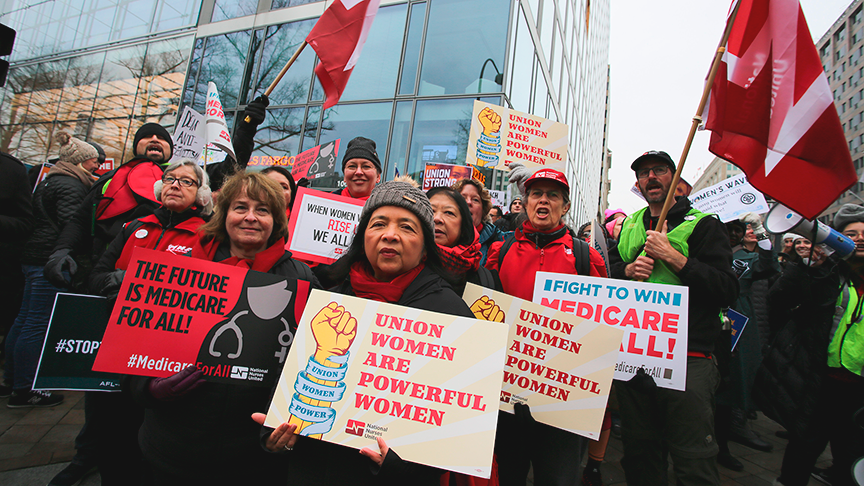 On Jan. 18, registered nurses from National Nurses United (NNU), the largest union of RNs in the country, will join together at Women's Marches across the United States to highlight the importance of unions to women and working people, NNU announced today.
"As proud union nurses, we are marching because we know unionism and feminism go hand in hand," said NNU Executive Director Bonnie Castillo, RN, who will be attending the Washington, D.C. Women's March with a contingent of NNU nurses. "The collective voice and protection of our union is what enables our women-dominated workforce to advocate for our patients, for each other, and for healthier, safer communities. We are thrilled to march this weekend, building collective power with our fellow women workers and with all working people across the country."
"We are marching for women's and worker's rights as members of NNU," said RN Sandy Reding, vice president of NNU,who will be marching in Bakersfield, Calif. "We know with a union contract, we can combat wage discrimination, workplace violence, and gender discrimination. But really, we take part in this march to speak up for our communities. We want to make sure we have clean air and water and that people can get the medical care they need when they need it."
Nurses say they are marching in D.C. and at sister marches across the country to highlight the ways in which unions fight to ensure safe workplace conditions. For nurses, this includes rules against being assigned an unsafe number of patients, and protections against infectious diseases, sexual harassment, and workplace violence.
NNU endorsed H.R. 1309, the Workplace Violence Prevention for Health Care and Social Service Workers Act, which the U.S. House of Representatives passed in November 2019. The bill, authored by Rep. Joe Courtney, has bipartisan support and would set the highest standards yet for protecting workers in these industries from violence on the job. This legislation follows the adoption by California OSHA of the first workplace violence standard for health care workers, which was the result of state legislation sponsored by the California Nurses Association / National Nurses United.
Nurses are also marching on behalf of their patients and on behalf of women in support of Medicare for All. Nurses strongly believe that there is no equality in society without guaranteeing healthcare as a human right. People shouldn't have to choose between rent, food, and health care, say nurses, and women workers should not have to put up with harassment or stay in jobs they would be better off leaving just to maintain access to employer-based health insurance.
"I've been involved with the Women's March since it started in 2016," said Terrie Weeks, RN, who will be attending theGulfport, Fla. march. "I'm marching because I want my country back …  I really want to stand up for the rights of myself and my sisters. Nurses are advocates for our patients; we are advancing the right for everyone to have high-quality health care, a high-quality environment, and a high-quality social safety net."
NNU nurses will be at Women's Marches in the following locations:
Washington, D.C.
California: Bakersfield, Sacramento, San Francisco
Florida: Gulfport
Chicago, Ill.
Kansas City, Mo.
National Nurses United is the largest and fastest-growing union and professional association of registered nurses in the United States with more than 150,000 members nationwide. NNU plays a leadership role in safeguarding the health and safety of RNs and their patients and has won landmark legislation in the areas of staffing, safe patient handling, infectious disease, and workplace violence prevention.