Press Release
Nurses Rally to Support Passage of Regulations Preventing Workplace Violence in Healthcare Settings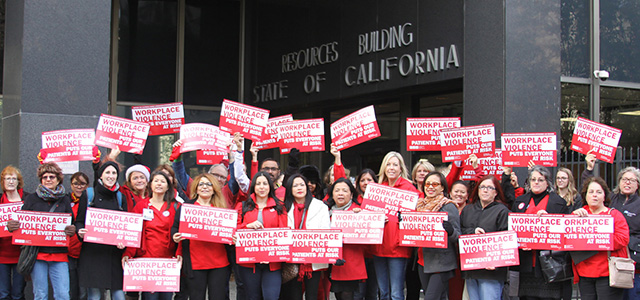 On Thursday Oct. 20, the California Occupational Safety and Health Standards Board (OSHSB) will conduct a vote on whether to adopt finalized regulations to prevent workplace violence in healthcare settings—and dozens of nurses will be gathering to support the regulations passing, the California Nurses Association (CNA) announced today.
"Registered nurses are coming together to tell the OSHSB, 'Pass these regulations!' They must be implemented swiftly to help protect nurses and all healthcare workers, as well as patients and families, from violence in healthcare settings—a serious problem for far too long," said Bonnie Castillo, RN, CNA's Director of Health & Safety. 


What: Nurses Rally for Passage of Workplace Violence Regulations
When: Thursday, Oct. 20; 9:30 a.m. Nurse Rally Outside Hearing; 10 a.m. Hearing
Where: Harris State Building Auditorium, 1515 Clay Street Oakland, CA 94612
Workers in the healthcare and social assistance industry face extremely high rates of workplace violence. In 2014, 52% of all the incidents of workplace violence reported to the U.S. Bureau of Labor Statistics (BLS) occurred against workers in the healthcare and social assistance industry. And the rates have been increasing; between 2005 and 2014 rates of workplace violence incidents have increased 110% in private industry hospitals.
In 2014, nurses stood strong to win the Healthcare Workplace Violence Prevention Act, authored by former Senator (and current Secretary of State) Alex Padilla and sponsored by CNA. This legislation defines workplace violence broadly to encompass actual acts of violence, as well as the threat of violence, and requires employers to develop a comprehensive Workplace Violence Prevention Plan emphasizing prevention, training, and worker participation.
RNs made their voices heard through two years of public commentary, say nurses, as the regulations to which California hospitals would be held were finalized. This Thursday's vote will be the final step before the regulations can begin being implemented.

"Nurses have been fighting for greater workplace violence protections for years, and this week's vote is an important milestone," said Castillo. "We will be out there to ensure that our voices continue to be heard and that these important regulations pass—because the health and safety of our nurses are at stake."