Press Release
Nurses rally in solidarity with striking teachers, present $30,000 donation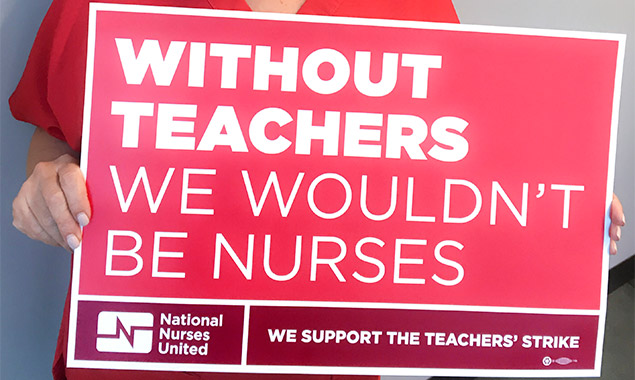 Stressing the common fight of teachers and nurses in protecting our public education system and other public institutions from defunding and corporate privatization, the California Nurses Association and Minnesota Nurses Association announced today that they are donating $30,000 to help support children, parents, and teachers during the historic strike by tens of thousands of educators working for the Los Angeles Unified School District, represented by United Teachers of Los Angeles (UTLA). Both nurse groups are affiliates of National Nurses United, the largest union of registered nurses in the United States.
"We support the teachers 100 percent. Teachers and nurses have so much in common," says Bonnie Castillo, RN and executive director of the California Nurses Association, who will be presenting the funds today at a Venice High School strike line rally. "Both professions are a calling, both professions are predominantly composed of women, both professions care for and educate a group of people that depend on us and trust us to advocate for them. And both are dedicated to building public institutions that serve the greater good, not corporate profit."
What: Nurses rally in solidarity with striking teachers, present $30,000 donation
Time: 2:30 p.m. Tuesday, Jan. 22, 2019
Location: Venice High School, 13000 Venice Blvd., Los Angeles
The 30,000 educators of Los Angeles Unified are making a stand in the nation's second-largest school district, a district that has become a battleground between those that support the goals of public education and those that wish to erode the system through the proliferation of charter schools. In 2017, pro-charter candidates for the Los Angeles County Board of Education ran the most expensive races for a school board in U.S. history, spending more than $15 million to capture a majority of board seats. They promptly appointed pro-charter businessman Austin Beutner as superintendent of LAUSD.
Nurses praised the Los Angeles teachers for directly challenging these billionaires who have used their wealth to push diversion of public resources to charter schools at the expense of public schools where children of color, and low-income students in general, are increasingly concentrated. "That is a direct attack on democracy and the efforts to establish a more equitable society of equal opportunity and quality education for all," Castillo said.
This historic strike, the first in more than 30 years, began Jan. 14 and comes on the heels of a wave of unprecedented, massive 2018 teacher strikes in West Virginia, Colorado, Oklahoma, and Arizona, showing that educators are turning to collective action to build their movement for the strong education system kids deserve.
Against this backdrop, UTLA is asking for smaller class sizes (many classes are pushing upwards of 40 students), less standardized testing, more support staff, including school nurses, librarians, counselors, and a 6.5 percent raise retroactive to last year. California spends less per pupil than the national average, and ranks about 41 out of 50 states in spending when adjusted for cost of living.
Castillo says nurses understand well the teachers' demand for smaller class sizes, just as nurses demand safe limits on the maximum number of patients assigned to them. "Teachers cannot do their jobs well when they are overloaded with students," says Castillo. "We nurses cannot do our jobs well when we are overloaded with patients."
"Teachers hold such pivotal but undervalued roles in our society," said Fong Chuu, an RN at UCLA Medical Center and a member of the CNA board of directors. "I would not be the nurse I am today if it weren't for my teachers. A strong public education system makes society more equitable for all."
The California Nurses Association is the largest union of RNs in California, representing close to 100,000 nurses, while the Minnesota Nurses Association represents 22,000 RNs in Minnesota. Both are affiliates of National Nurses United, the largest union of nurses in the country, with about 150,000 RN members.