Press Release
Nurses: Proposed Trump Budget Cuts Will Devastate Healthcare Programs and Harm Most Vulnerable Patients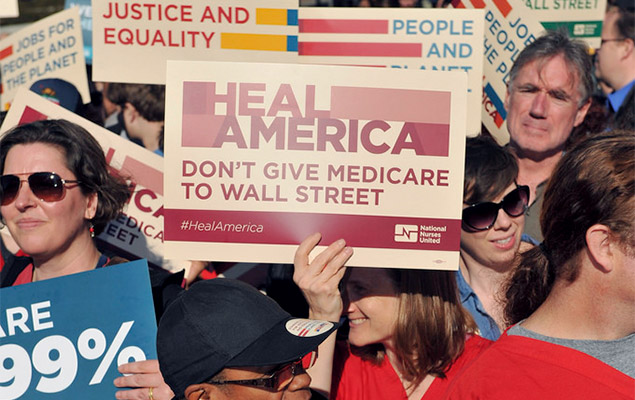 National Nurses United today sharply criticized President Trump's FY 2019 budget request as a broad attack on working people and the nation's most vulnerable communities.
"After spending the last year working to enact tax cuts for the wealthiest Americans, the President is now proposing to pay for those tax cuts by slashing programs that are necessary to the health and wellbeing of low and middle-income Americans," said Jean Ross, RN, Co-President of NNU.
The President's budget request includes massive budget cuts to Medicaid, Medicare, the Supplemental Nutrition Assistance Program (SNAP), and other social programs that millions of people rely on.
"Without Medicaid and Medicare, millions of our patients could lose their access to healthcare. Nurses will see the impact of this in our emergency rooms, which are already crowded with patients whose health problems could have been prevented if they had access to healthcare services earlier," Ross said.
In particular, NNU opposes the following budget cuts proposed by President Trump:
$1.4 trillion cut to the Medicaid program, which is a blatant attack on the health of poor and working Americans, seniors, and people living with disabilities. Medicaid is also fundamental to combating the opioid epidemic.
$555 billion cut to the Medicare program over 10 years.
$214 billion cut to the Supplemental Nutrition Assistance Program (SNAP, or food stamps) over 10 years. SNAP currently protects 44 million people from food insecurity and hunger, and a majority of its beneficiaries are children, senior citizens, or persons with disabilities.
$21 billion cut to Temporary Assistance for Needy Families (TANF) over 10 years.
$72 billion cut to programs that benefit people with disabilities.
Eliminates the Low Income Home Energy Assistance Program that allows millions of American to stay warm in the winter, and cool in the summer.
$2 billion cut (approximately 25%) to the Environmental Protection Agency (EPA)
"Hundreds of millions of people rely on these important social programs," said Ross.  " If patients don't have food, a roof over their heads, or heating to keep them warm in the winter, their health will suffer. If they don't have access to Medicaid to ensure they have healthcare, their health outcomes will be worse. There are already far too many patients across the country who live without access to these services – the Trump budget would make this situation even worse."