Press Release
Nurses praise Assembly Health Committee passage of guaranteed health care bill as 'hope for California'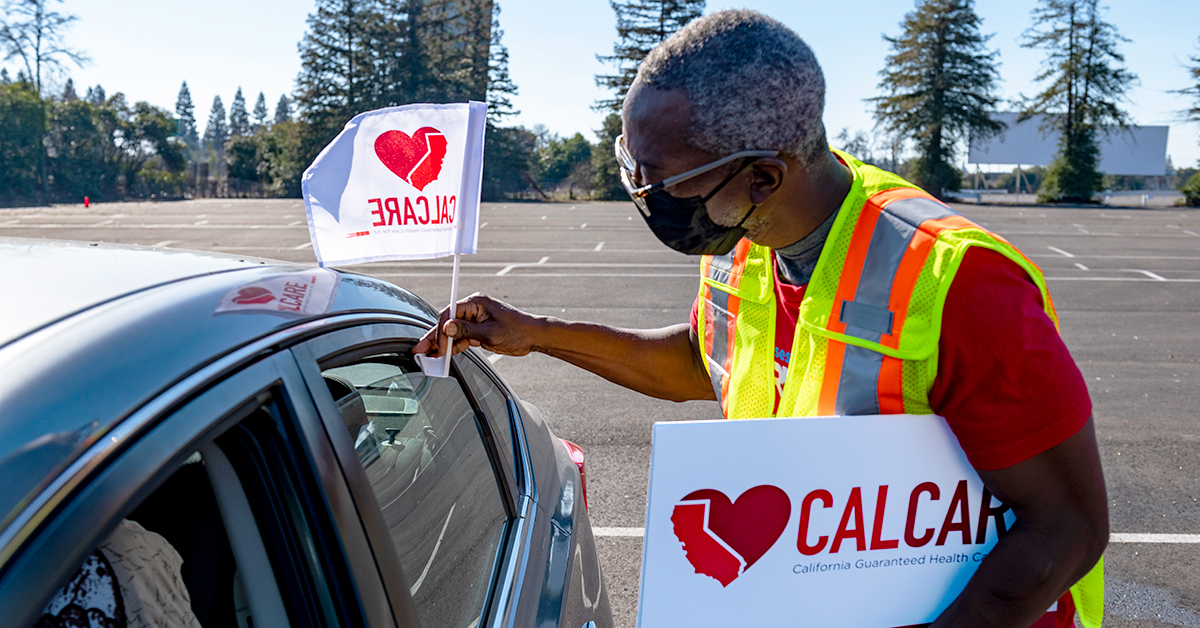 The California Nurses Association (CNA) today congratulated the Assembly Health Committee chair and committee members for approving the single-payer Guaranteed Health Care for All Act (CalCare), AB 1400 Tuesday night.
"We are proud of those who took this monumental step. Moving forward on legislation that can finally build health security for millions is a day to remember. It offers hope for California families who have long endured the pain and suffering of a broken health care system that shuts out so many in need of care, or buries them under thousands of dollars — or more — of medical debt and the nightmare of choosing which other family basics to cut," said CNA President Cathy Kennedy, RN.
Kennedy praised committee members who voted 11-3 to advance the bill despite the vociferous opposition of the multi-billion dollar health care industry and its corporate allies and lobbyists. "This is just the first step, but a huge one," said Kennedy, adding that nurses and the scores of health care and community activists who have worked so hard to enact transformative health care reform will continue to step up the campaign. The bill next moves to the Assembly Appropriations Committee and must pass the full Assembly by the end of the month.
In testimony to the committee, Carmen Comsti, lead regulatory policy specialist for CNA, described what is at stake and part of what the bill would achieve:
Every day nurses witness preventable health care tragedies that result from our current fragmented system of insurance – patients forgo the medications and care they need simply because they cannot afford it. Meanwhile, insurers and health plan middlemen deny and limit care — avoiding coverage of the sickest, restricting provider networks, creating financial barriers – all to maintain corporate bottom lines.
The bill establishes and guarantees, under CalCare, universal health care to all Californians as a right. Every California resident would be eligible for the program — regardless of ability to pay, without being tied to a job or immigration status, and regardless of whether an insurance company deems them to be a liability to corporate pocket books.
AB 1400 ensures that everyone gets the care they need by eliminating financial and insurance barriers to care. With no cost-sharing under the program, care would be free at the point of service. No copays, no deductibles, and no premiums. Profit motives and financial incentives would no longer determine care. Rather, decisions on patient care under CalCare would be based on patient need.  CalCare puts decisions of care into the hands of patients and their doctors, nurses, and other health care professionals as opposed to insurance companies and corporate boardrooms.
Renowned health care justice activist Ady Barkan recounted to the committee his struggles securing proper care after his diagnosis with ALS:
I knew our health care system was broken before my diagnosis, but having a serious illness clarified just how cruel our system really is. My insurance denied me a ventilator, stating that it was experimental and then, two weeks after that, they rejected access to an FDA-approved ALS drug. Even good health insurance, which I have, does not cover the cost of the care I need to survive. It shouldn't take a viral moment, a team of lawyers, and an experienced activist to get the health care you need to survive. My outcome is the exception, but the challenges we faced, fighting insurance companies for services we are rightfully owed, are not. At our best, California can lead the nation to a more just future, like we have done on environmental protection and marriage equality. We should do the same on health care.
Introducing the bill to the Committee, Assembly member Ash Kalra emphasized how the current health care system is "embedded with too much suffering" and is fiscally and morally unsustainable, imposing a burden on workers and employers alike. The bill, he said, "will save our state tens of billions in health care costs," while achieving real progress on health care "economic justice, racial justice, and immigrant justice."
Committee Chair and dentist Jim Wood said the choice to practice putting patients first has been frustrated by a "health care that has lost its way… Profits are driving the entire system. Californians need affordable, quality care. They're angry, desperate, scared. Their anger is justified, and we need to respond."
Representatives of numerous cities, counties, and labor and community organizations jammed the phone lines during the hearing to express their support for the bill, including representatives of the cities of Los Angeles, San Francisco, Oakland, San Jose, Delano, and many others.
"Piecemeal efforts to fix our multi-payer quagmire of insurance have not and will not end our health care crisis," said CNA's Comsti, concluding, "we cannot expect a system that is designed to squeeze every dollar and cent from our health – from the pain, misery, and illness of your constituents – to put patients over profits. This committee must act urgently to pass AB 1400 – any delay will be paid through the health and lives of Californians."
California Nurses Association/National Nurses United is the largest and fastest-growing union and professional association of registered nurses in the nation with 100,000 members in more than 200 facilities throughout California and more than 175,000 RNs nationwide.