Press Release
Nurses Plan Picket to Demand Continued Acute Care Hospital Services at O'Connor Hospital and St. Louise Regional Hospital Despite Verity Bankruptcy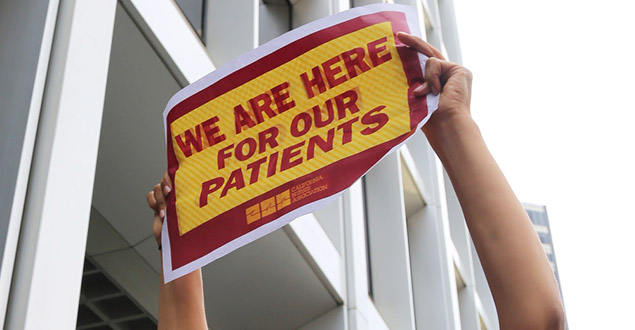 Registered nurses plan to an informational picket and rally at O'Connor Hospital in San Jose, and St. Louise Regional Hospital in Gilroy, on Thursday Oct. 11 to demand that both hospitals continue to operate as full service acute care hospitals despite the bankruptcy sale of the owner, Verity Health Systems.
"We are rallying to make it clear that as nurses we are committed to continuing to serve our community and we want Verity to keep their commitments to the patients we serve," said Maria Canonizado, who works as an RN in the ICU at O'Connor Hospital. "Our expectation is that any new buyer will retain all acute care hospital services with absolutely no bed closures and that they will honor our contract and all pension obligations and retain the healthcare workers who have committed themselves to our community for all these years."
What: Rally and Picket at O'Connor Hospital and St. Louise Regional Hospital
When: Thursday, October 11 — 4 p.m. – 7 p.m.
Where: O'Connor Hospital, 2105 Forest Ave, San Jose and
St. Louise Regional Hospital, 9400 No Name Uno, Gilroy
O'Connor Hospital and St. Louise Regional Hospital are two of the six Daughters of Charity facilities bought by Verity Health System in 2015. At the time of the sale, the Attorney General imposed a number of conditions before approving the transaction, including the requirement that the hospitals would operate as acute-care hospitals offering emergency services through 2025. The new owner also agreed to take no actions that would put collective bargaining agreements, including existing jobs or pension benefits at risk.
Verity Health Systems recently announced that it has selected a purchase offer for both hospitals from Santa Clara County. The county offer makes no mention of continuing existing acute care services for patients. It also does not appear to honor existing contracts, benefits and protections, stipulating instead only "provisional employment."
Nurses are calling on the judge overseeing the Verity bankruptcy proceedings to mandate that any future owner or operator of both O'Connor and St. Louise fulfill the requirements put forth by the former Attorney General in 2015, including the maintenance of the same level of acute care services for patients, guaranteed job security, and the fulfillment of all pension obligations to current and future retirees.
"As a frontline nurse, I want to assure our community that in the future St. Louise Regional Hospital will continue to provide safe and prompt access to the healthcare services they depend on," said Christine Dixon, RN, Maternal and Child Health, St. Louise Regional Hospital. "I want patients to have the opportunity to continue to choose Saint Louise through their lifespan, from birth to end-of-life care. There is no other hospital that I have ever worked in where I can deliver someone's baby and see them years later in the community and they remember me. I have been privileged to work here for 20 years, and plan to continue for 20 more."
A town hall meeting on the future of Seton Medical Center, the Verity-owned facility in Daly City, will also be held on Weds. Oct 10. The town hall will be held in San Francisco at the United Irish Cultural Center from 7:00 to 8:00 pm. Nurses and healthcare workers will participate along with elected officials, including Daly City Mayor Juslyn Manalo, San Mateo County Supervisor David Canepa, Senator Scott Wiener, Assembly Speaker pro Tempore Kevin Mullin and Assemblymember Phil Ting.
The California Nurses Association has 100,000 members statewide and is affiliated with National Nurses United, the largest and fastest growing union of RNs in the nation. CNA/NNU has won landmark health and safety protections for nurses and patients in the areas of staffing, safe patient handling, infectious disease and workplace violence protection.