Press Release
Nurses at Oroville Hospital Ratify Four-Year Contract with Protections to Improve Patient Safety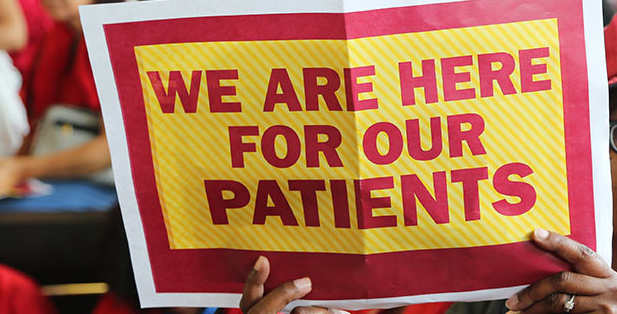 Registered nurses at Oroville Hospital in Oroville unanimously ratified a new four-year contract, announced California Nurses Association (CNA) today.
"Safety matters. Bargaining is a process and thanks to the unity and advocacy of our nurses and the actions they took, we were able to obtain strong language on safe staffing," said Ea Thao, an RN. "Now it's time to ensure this language is upheld so that workplace conditions and patient care standards at Oroville Hospital improve."
Highlights of the contract include:
• Language Supporting safe staffing for safe patient care, including staffing protocols during declared emergencies or disasters.
•  Expanded workplace violence language
•  Improved language on meal and rest breaks for nurses 
•  Communicable disease protections. Healthcare workers cannot protect their patients without being protected themselves, say nurses, and to that end, the new agreement includes a process advocating for the safety of all RNs during any outbreak of communicable diseases in the hospital. 
•  Economic gains include across the board pay increases of 12 percent over the term of the contract, in addition to step increases and shift differentials. 
"We are committed to improving this ever-expanding rural hospital," said Kelley Skinner, RN. "We will not stand for workplace violence and want to make Oroville a safer and more secure hospital for our patients and those who care for them." 
CNA represents nearly 400 nurses at Oroville Hospital.
CNA has 100,000 members and is affiliated with National Nurses United, the largest and fastest growing union and professional association of registered nurses in the United States with more than 150,000 members nationwide. CNA/NNU plays a leadership role in safeguarding the health and safety of RNs and their patients and has won landmark legislation in the areas of staffing, safe patient handling, infectious disease, and workplace violence prevention.