Press Release
Nurses at Long Beach Medical Center Ratify Three-Year Contract with Protections to Improve Patient Safety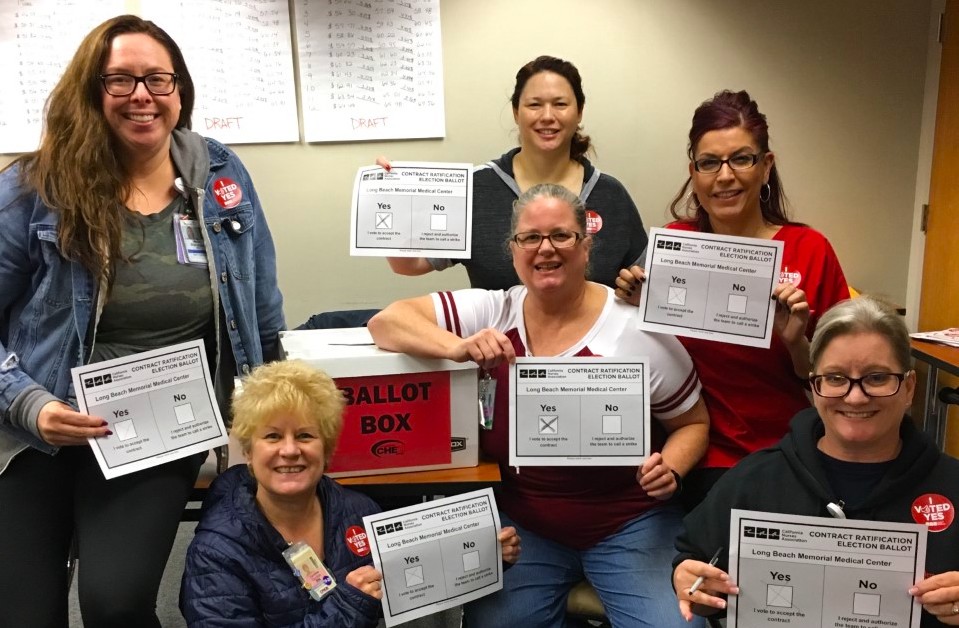 Registered nurses at MemorialCare Long Beach Medical Center in Long Beach overwhelmingly ratified a new three-year contract, announced California Nurses Association (CNA) today. The agreement is the result of a long fight that included nearly a year of bargaining, an informational picket, and a rally.
 
"We now have improvements in this new contract to better protect our patients and staff," said Rose Polidore, an RN in the ortho/neuro unit. "Nurses were united and did not let management divide us."

Highlights of the contract include:
Safe patient handling. Lift teams will assist with repositioning or lifting patients, which reduces patients falls and staff injuries.
Advocacy for patients. Nurses fought to maintain whistle-blower protections that give them the right to advocate for patients.
Workplace violence protection language.
Improved floating provisions. "Floating" is the assignment of nurses to units outside their area of expertise. 
Economic gains and health benefit protections to help retain and recruit experienced nurses. The new contract includes a minimum of 9.5 percent increase over the term of the contract. In addition, RNs with 20 or more years of service will get a $1,000 bonus. The contract protects existing pensions and 401(k).
"We negotiated to create the lift team because it protects both the patients and the staff," said Evy Gomez, an RN in the cardiac monitoring unit and member of the bargaining team. "It's often not safe for one person to lift or reposition a patient. The ability to use a lift team will cut down on patient falls and staff injuries."
CNA represents more than 2,100 nurses at MemorialCare Long Beach Medical Center in Long Beach. CNA has represented Long Beach Medical Center RNs since 2001.
The California Nurses Association has 100,000 members and is a founding member of National Nurses United, the largest and fastest growing union and professional association of registered nurses in the United States with more than 150,000 members nationwide. CNA/NNU plays a leadership role in safeguarding the health and safety of RNs and their patients and has won landmark legislation in the areas of staffing, safe patient handling, infectious disease, and workplace violence prevention.