Press Release
Nurses Join Sen. Ricardo Lara and Long Beach Mayor Robert Garcia for a Rally Supporting SB 562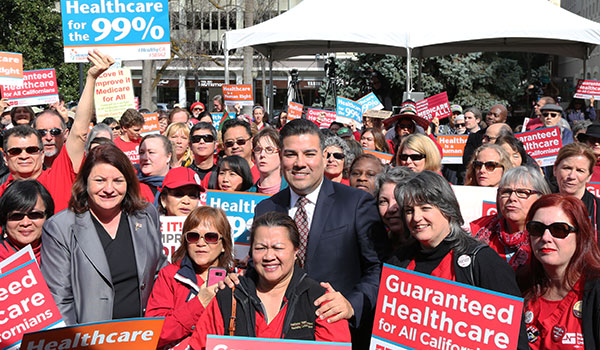 Rally Friday Feb. 24, 5:30-6:30 p.m.
Registered Nurses from area hospitals will join Sen. Ricardo Lara, Mayor Robert Garcia and other local leaders and activists at a rally in Long Beach on Friday evening to kick off a campaign for the Healthy California Act SB 562, a bill that will guarantee health care for all Californians by establishing a Medicare-for-all insurance system in the state, announced the California Nurses Association/National Nurses United (CNA/NNU).
"I am proud to endorse Senator Ricardo Lara's bill calling to provide healthcare for all Californians," said Long Beach Mayor Robert Garcia. "If we can achieve this in our state, it could become a model for the nation."
"Far too many of our patients suffer from chronic and acute conditions that could have been avoided if they had treatment sooner, but they delay treatment and self-ration medications because they can't afford them, " said Margaret Keenan, RN and CNA/NNU board member. "As RNs we are absolutely thrilled to support SB 562, the Healthy California Act, a plan to provide timely access to comprehensive care, including mental health, dental and vision. Today we're inviting our friends and neighbors to join this campaign because together, we can do this!"
What: Nurses rally with Mayor Garcia, Sen. Lara and other leaders in support of the Healthy California Act SB 562 – a new bill guaranteeing health care to all Californians.
When: Friday, Feb. 24, 5:30-6:30 p.m.
Where: Harvey Milk Park at Promenade and 3rd, Downtown Long Beach
The bill was introduced by Senators Ricardo Lara (D-Bell Gardens), and Toni Atkins (D-San Diego), on Friday Feb. 17 with the California Nurses Association/National Nurses United (CNA/NNU) as the primary sponsor and support from the Healthy California Campaign, comprised of organizations representing over four million Californians.
SB 562 declares that it is "the intent of the Legislature to enact legislation that would establish a comprehensive universal single-payer health coverage program and a healthcare cost control system for the benefit of all residents of the state."
"Healthy California gives everyone insurance, because everyone has a right to healthcare. Trump and the Republicans don't get to pick the healthcare winners and losers, and we'll never get to 100% healthcare in California unless we lead," said Sen. Lara when he introduced the bill.
"At a time of critical disarray of our health care system, with the threatened repeal of the Affordable Care Act and increasing uncertainty over the future of healthcare coverage, services and costs, California can once again lead the nation," said RoseAnn DeMoro, executive director of CNA and NNU. "This bill will set a standard in America and be a catalyst for the nation."