Press Release
Nurses at Henry Mayo Newhall Memorial Hospital Set One-Day Strike for September 3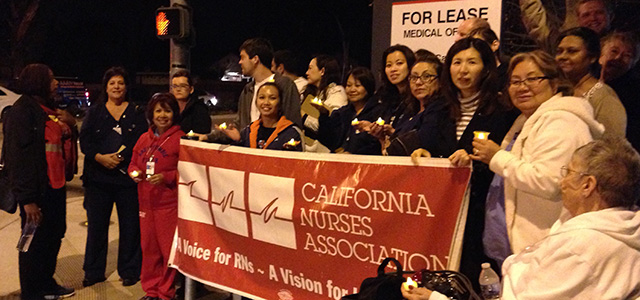 Hospital Still Proposes Nurses Surrender Legal Rights
Vital to Patient Advocacy
 
Registered nurses at Henry Mayo Newhall Memorial Hospital in Valencia, Ca. will hold a one-day strike beginning Thursday, September 3 the California Nurses Association/National Nurses United announced yesterday.
 
The 650 nurses at Henry Mayo Newhall Memorial Hospital have been working without a contract since January 22. Management's delay in reaching a new contract agreement that guarantees the nurses' ability to advocate for their patients jeopardizes patient care and the hospital's ability to retain experienced RNs in the Santa Clarita Valley, nurses say.  

Contract talks are scheduled to resume on Monday, August 31, and nurses are calling on management to avoid a walkout by reaching a fair contract agreement that respects nurses' legal and patient advocacy rights.
 
Hospital officials have been insisting that the RNs surrender their right to report violations of employee rights, covered by federal and state laws, to appropriate public agencies.
 
 "I am honored to represent my RN colleagues as a negotiator. This "take away" of rights the employer is using to hold up reaching an agreement is absolutely unacceptable. My role and responsibility is to maintain, protect and gain rights for nurses, not give them up," said Susan Salkeld, who is an RN and Case Manager and has worked at Henry Mayo for 21 years.
 
"We cannot agree to management's demand that we undermine our own role as strong patient advocates by surrendering our legal rights," said Robbie Bailey, an RN in the Ambulatory Care Center. "It is our professional responsibility to stand up for our patients and to do that effectively we must maintain all the rights available to us," said Bailey who has been an RN for over 40 years, including 28 years at Henry Mayo.