Press Release
Nurses at Good Samaritan Hospital in Los Angeles Reach Tentative Agreement on Three-Year Contract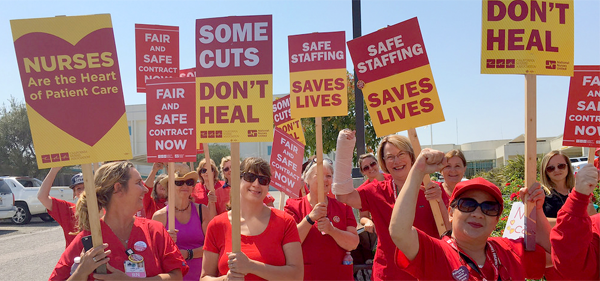 Registered nurses at Good Samaritan Hospital in Los Angeles, Calif. have reached a tentative agreement on a new collective bargaining contract with the hospital, announced California Nurses Association (CNA) today. 
"Thanks to the unity of our nurses, we were able to stave off a long list of proposed take-aways put forth by hospital management and reach a tentative agreement that strengthens our ability to effectively advocate for our patients," said Sandra Rodriquez, RN, and member of the union's negotiating team. "This agreement respects and maintains RNs professional and economic standards and will allow Good Samaritan to recruit and retain experienced nurses." 
The nurses are scheduled to vote on the contract this coming Friday, June 7. 
The negotiating team expects the nurses to vote overwhelmingly in favor of the three-year contract which includes provisions to protect nurses from workplace violence and new opportunities for professional development education.
CNA represents 600 nurses at Good Samaritan Hospital. CNA has represented Good Samaritan Hospital nurses since 1998.
The California Nurses Association has 100,000 members and is affiliated with National Nurses United (NNU), the largest and fastest growing union of registered nurses in the US with more than 150,000 members nationwide.  CNA/NNU plays a leadership role in safeguarding the health and safety of RNs and their patients and has won landmark legislation in the areas of staffing, safe patient handling, infectious disease and workplace violence prevention.