Press Release
Nurses: Don't Make Pandemic Crisis Worse By Heeding Hospital Push for Safety Cuts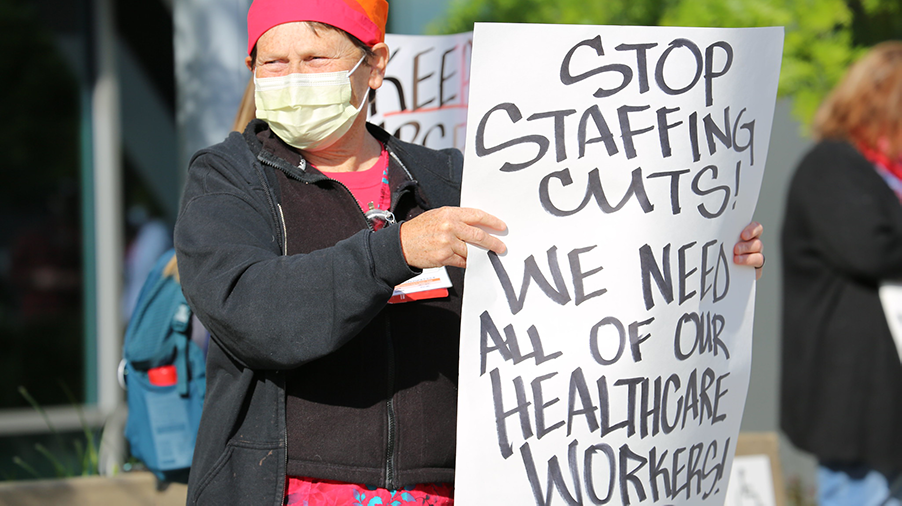 'Lean Industry Practices Slashed Preparedness'
National Nurses United today charged that decades of unwarranted hospital industry safety cuts have led to many of the current staffing and capacity crises, and that demands for rolling back workplace public safety rules would only exacerbate the severity of the pandemic.
"For many years, hospital industry executives have carried out hospital closures, cuts in 'less profitable' patient services, reductions in staffing of registered nurses and other frontline caregivers, and minimal inventory of essential supplies from medicine to personal protective equipment (PPE)," noted NNU Executive Director Bonnie Castillo, RN.
"Now we're seeing the inevitable consequence of these profit-driven schemes," said Castillo. "Even in non-emergent times, it has resulted in reduced hospital access in many low income urban and rural areas. In a global pandemic it creates a public health disaster with overwhelmed, unprotected and inadequate staff, no beds, and mobile morgues."
The exploding pandemic has led to hospitals overwhelmed in capacity while many caregivers who have been putting their lives on the line for nine months becoming infected or dying, facing burnout, unimaginable stress, and resigning, while still not provided proper PPE and other infection control protocols throughout their hospitals.
"This is not an accident, it is planned. It is the end times of disastrous 'just-in-time' practices sold by management consultants," said Castillo. "Lean industry practices slashed preparedness. They treat safe staffing and needed supplies as a drag on budget goals and profit margins, rather than the pre-requisite for a humane, fully prepared patient-oriented health care system."
"Even in the midst of this pandemic, we are seeing a continuation of these strategies with ongoing hospital closures, layoffs, and other reductions that are sacrificing patient safety, the life-saving protections their frontline nurses and other staff need, and readiness for the remainder of this pandemic and all the next crises to come," Castillo said.
"Instead of reversing these failed practices and priorities," she continued, "we're seeing hospital trade groups and executives demanding blanket waivers for reduced safety standards on safe staffing, proper staff licensure, stockpiles of PPE and other supplies, and a further ability to slash less profitable patient services, all of which they hope will be permanent cuts."
Castillo pointed to a quote by a representative of the American Hospital Association in the New York Times, December 2: "In an era when you're focused on reducing the cost of health care, having excess capacity … is just antithetical to your efforts to be as lean as possible, to be as cost-efficient as possible."
"That's a dangerous prescription for the safety of our patients today, and tomorrow," Castillo concluded, "one that nurses will resist and continue to make our voices heard."