Press Release
Registered nurses demand AIR Commission reject recommendations of health care service closures in the VA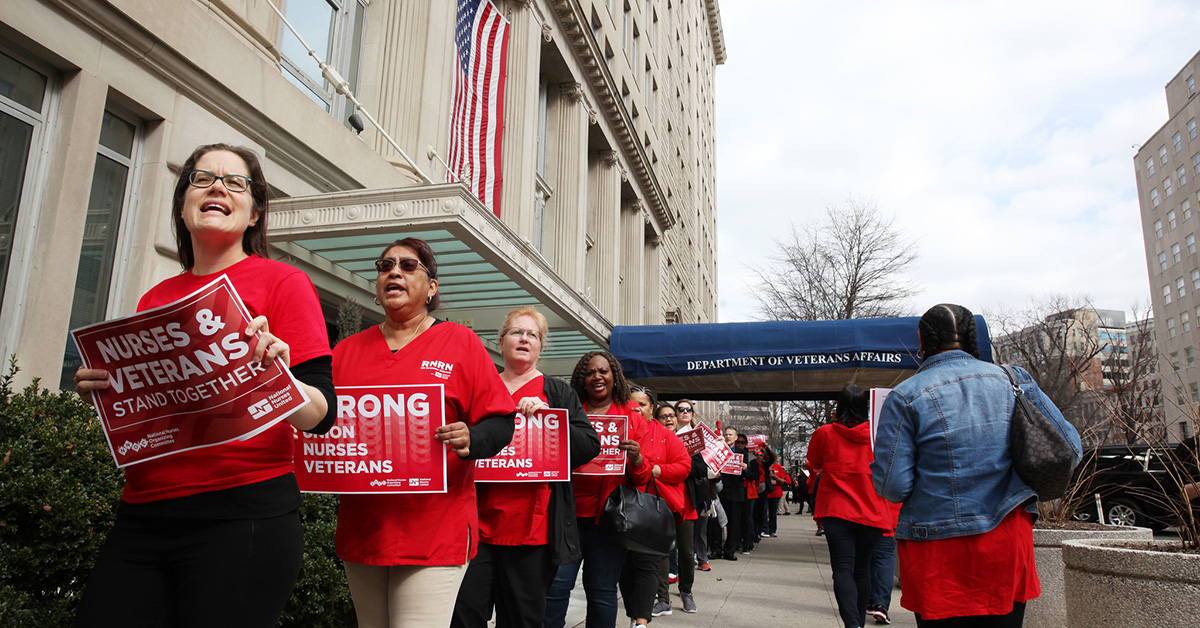 RNs call closure recommendations a "dangerous privatization effort" that will hurt veterans, redirect taxpayer money outside of the VA, and lead to poorer outcomes for veterans
National Nurses United (NNU) today called on the soon-to-be established Asset and Infrastructure Review (AIR) Commission to firmly reject the Veteran Administration's (VA) recommendations to close and dismantle numerous vital medical facilities and service lines across the country. While nurses applaud and welcome recommendations to modernize and expand services in some regions, the proposed closures would force veterans away from the VA's holistic, veteran-centric care. These recommendations grew out of the MISSION Act, which nurses have long denounced, as it allows for the privatization of the VA health care system, which is the only integrated health care system in the country and the only health care system designed specifically to meet the unique needs of our nation's veterans.
"There is no better place for veterans to get care than in the VA," said Irma Westmoreland, RN, vice president of NNU and the union's Veteran's Affairs Chair. "We see that every day in our hospitals and clinics. "Study after study has shown that the VA provides world-class care more efficiently than private sector operations and the VA is vastly superior in treating the unique needs of veterans. We know if VA facilities close, veterans will be dumped into the fragmented, hard-to-navigate private sector, which threatens their well-being and their lives."
Nurse have long pointed to the dangers of privatization and emphasized how political and economic interests have pushed forward these efforts to the detriment of both veterans and taxpayers. ProPublica and other news outlets have reported extensively on the troubling ways profit-driven entities exploit efforts to privatize veteran care, as well as the dangerous effects on veterans who are trying to access care. Former Secretary of Veterans Affairs, David Shulkin, and many veterans' service organizations have denounced any efforts to privatize veterans' services, underscoring privatization's negative outcomes for veterans.
Nurses note that despite the attacks on the VA system — and the failure of management to replace departing nurses and other personnel in a timely manner resulting in more than 47,000 vacancies — the VA medical system is far better equipped to provide the clinical and cultural expertise needed by our wounded veterans. This especially includes critical treatment of severe war-related injuries, such as traumatic brain and spinal cord injuries, PTSD, and mental health problems.
A 2018 RAND Corporation study found that the VA medical system is working as well or better than non-VA care. On average, VA hospitals performed the same or "significantly better" than non-VA hospitals on almost all patient, mortality, and effectiveness measures, researchers found. For outpatients, VA facilities performed better than commercial and Medicaid HMOs and better or similarly to Medicare HMOs.
In addition, private healthcare is also far more expensive than the cost-effective VA system. If veterans are forced to seek care in the private sector, those services will undoubtedly lead to higher out-of-pocket costs at a time when many veterans are already struggling with higher housing costs and other economic troubles, especially those trying to reintegrate into society.
"Like many of the nurses I work with at the VA, I am a proud veteran," said Mildred Manning-Joy, RN. "I come from a proud military family. My son served multiple tours in Afghanistan and Iraq. He came back a changed man and carries the invisible scars of his time in combat, like so many of our veterans. I trust his care to the VA because I know the VA provides the best care in a supportive environment surrounded by experts who understand his past and know best how to prepare him for his future."
National Nurses United is the largest and fastest-growing union and professional association of registered nurses in the United States with more than 175,000 members nationwide.