Press Release
Nurses criticize SEIU-hospital industry deal to trade delay of seismic safety for wage increases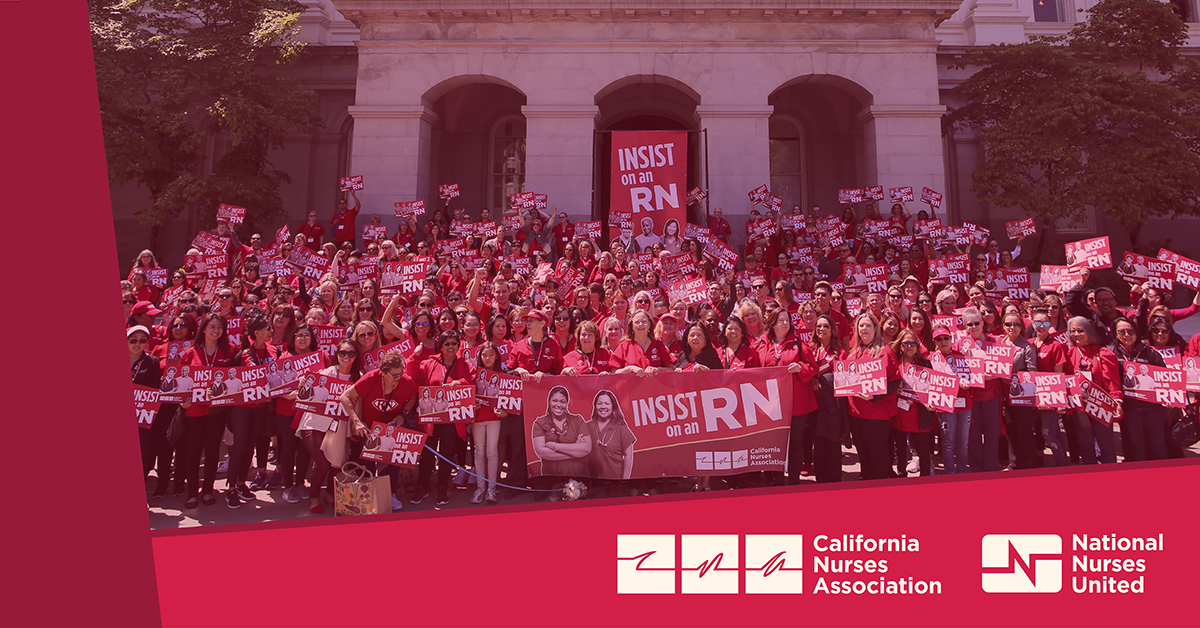 The California Nurses Association (CNA) today condemned a reported deal by SEIU-United Healthcare West with the California Hospital Association (CHA) under which SEIU-UHW would support another seismic safety upgrade delay for hospital compliance "as a bargaining chip in negotiations to secure a $25 minimum wage for its members," as Politico reported on Aug. 18.
The last-minute alliance, the Los Angeles Times noted Friday, has infuriated other unions, which accused the SEIU-UHW of making a backroom deal that skirts the legislative process and puts patients, health care workers, and communities at risk.
In a letter to Gov. Gavin Newsom and state legislative leaders, Stephanie Roberson, CNA's government relations director, said the nurses are firmly opposed to current maneuvering to extend the current 2030 deadline for hospital compliance another seven years to 2037.
Citing a report also in the Sacramento Bee on the proposed deal between SEIU-UHW and the CHA, the lobbying arm for the wealthy California hospital industry, Roberson wrote "we support higher, living wages for all. But as nurses we will never sacrifice patients' safety, our safety, and our communities' safety." CNA also joined with six other labor organizations in a letter emphasizing, "our unions support an increase in the minimum wage: we oppose trading wages for patient safety."
"It is unconscionable that any union would demand handouts from our elected leaders to support a gift to the hospital industry instead of prioritizing the lives, protection, and safety of patients, hospital workers, and our communities," said CNA President Sandy Reding, RN. "We call on California officials to reject this appalling proposed backroom deal that could endanger countless lives and access to essential care for many others across our state from the next major earthquake that is sure to come."
State legislators have pressed hospitals in earthquake-prone California to update all their facilities for seismic safety dating back to 1971 when a 6.6 magnitude San Fernando quake killed 64 people, 49 of them in the badly wrecked Veterans Administration Hospital in Sylmar. Then in 1994, following a huge 6.7 magnitude Northridge earthquake in which 50 people died and 23 Los Angeles area hospitals were so severely damaged they had to close or limit services, 12 of them being "red tagged," the state legislature enacted the first mandatory deadline for seismic upgrades.
But the hospital industry has repeatedly pushed for, and, won extensions of the initial compliance deadline. Exempting hospitals from complying with the current 2030 standard deadline, Roberson wrote, means "as many as one out of four noncompliant hospital buildings would be unsafe to occupy after an earthquake." Additionally, "the remaining buildings would not be required to have functional electricity, water, sewage, or even elevators."
Further, despite repeated cries of poverty by the CHA, in a state where large corporate chains dominate the state's acute care landscape, California hospitals have long recorded huge profits, and their wealth is growing. Since 2001, California hospitals have racked up more than $118 billion in profits, including nearly $49 billion just in the past five years. The 1994 law provided compliance funding for small, rural, and critical access hospitals that needed the help.
During the first year of the pandemic, while thousands of patients and health care workers were dying in the Golden State, California hospitals made almost $10 billion, their third highest ever amount after record years in 2018 and 2019, according to American Hospital Association data.
"There is no excuse for further delays in seismic safety," Reding added. "For SEIU-UHW to set a price for demanding the hospitals meet their long overdue obligation is abhorrent. It demonstrates a shameful level of corruption that stains the very principles of public advocacy that labor stands on." 
"That's negligent on their part," said CNA President Cathy Kennedy, RN to the Los Angeles Times. "This was brought to their attention many, many years ago. They need to prioritize and put the funding into the infrastructure. They can do it."
Backroom deals with the health care industry have long been a trademark of SEIU, CNA notes, dating back to a Labor Management Partnership agreement with Kaiser Permanente in 1997 that required the union to support Kaiser business goals, including patient service cuts and seismic safety, in exchange for favorable treatment for SEIU. The union has advanced similar deals with other big hospital chains and CHA.
For example, in 2002, SEIU and Kaiser agreed to a proposed bonus for telephone service representatives for limiting time spent on the phone assisting patients.
"California hospitals can certainly afford to ensure the safety of our hospitals, we should demand they do so," wrote Roberson in the letter to legislators on behalf of CNA opposing the extension and the trade off.
"Whether the next disaster is a wildfire, pandemic, or earthquake, people will continue to count on their hospitals not just to remain standing but provide lifesaving services," the letter continued. "This pandemic has laid bare the tragedies that occur when hospitals are not prepared for disasters. Let's not make the same mistake twice."