Press Release
Nurses: CPMC attack on safe staffing puts lives of patients, nurses, workers at risk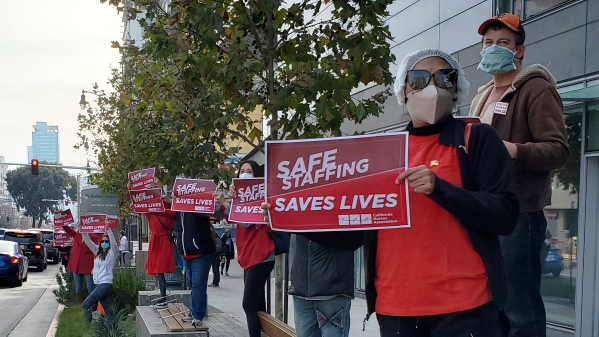 Virtual press conference Wednesday, Dec. 30
Registered nurses at Sutter California Pacific Medical Center (CPMC) will hold a press conference at noon on Wednesday Dec. 30 to protest the hospital's use of a state waiver to circumvent RN-to-patient safe staffing standards, announced California Nurses Association/National Nurses United (CNA/NNU) today.
Under ratios waivers, hospitals can increase the workload of already overburdened nurses. Nurses say they are urging CPMC to staff for safe patient care, not to use the pandemic as an excuse to put patients at serious risk.
"As a frontline ER nurse of three decades, who worked before California's safe staffing ratios were enacted in 2004 and who worked after, I know ratios enable me to be the best I can be at my job," said Jane Sandoval, CPMC registered nurse and CNA board member. "Now Sutter is asking to waive safe staffing and go backward in time—backward in patient safety—during a deadly pandemic, with Covid-19 and flu season converging. This puts patients, nurses, and our entire community at risk."
Who: CPMC registered nurses sharing personal stories
What: Virtual press conference to protest safe staffing ratios waivers
When: Wednesday, Dec. 30, 2020, 12 noon
After CPMC's recent request to waive safe staffing ratios in units such as the emergency room, intensive care unit, medical surgical unit and telemetry unit, the hospital has gone above and beyond by returning with a waiver request to also erode safe staffing in units such as labor and delivery, the neonatal ICU, postpartum, and specialty care units.
"It's not right applying for a waiver to waive ratios when nurses are being called off or asked to be sent home because it is so slow," said labor and delivery registered nurse Kristy Morrison, of CPMC's Van Ness campus. "There is absolutely no need for a waiver in labor & delivery at this time."
In addition to the waiver of safe staffing ratios, CPMC is also requesting to waive competencies, forcing nurses to care for patients in units outside their specialty, and to assign hospital workers who do not have a registered nurse license some of the work previously done by a licensed registered nurse.
"Rolling back safety standards will surely lead to more hospital-acquired infections, and put the lives of patients, registered nurses, and other health care workers at risk," warned CNA/NNU President Zenei Cortez, RN. "Instead of working with nurses to prepare, to plan, and to make sure they had the staffing in place before a massive wave hit, hospitals want the state and all Californians to bail them out from the crisis they themselves have created."
California's multi-billion hospital industry fought for more than a decade to block the state's landmark safe staffing law, which went into effect in 2004, even though studies have shown the California law has resulted in up to 14 percent fewer patient deaths than in comparable hospitals, assured nurses more time to spend with patients, and kept nurses at the bedside.
CNA/NNU represents more than 1,600 registered nurses at CPMC and more than 100,000 nurses across the state.