Press Release
Nurses condemn advisory committee for voting against Covid vaccine booster shots for nurses and other health care workers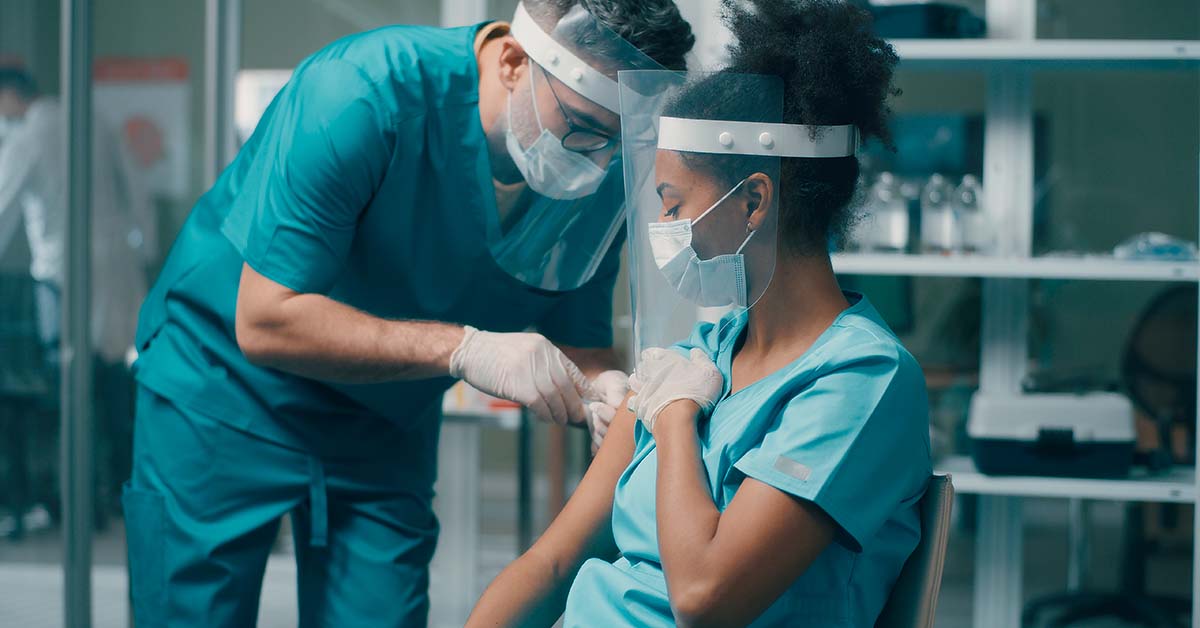 National Nurses United (NNU) condemns the Advisory Committee on Immunization Practices (ACIP) for voting against recommending Covid vaccine booster shots for people aged 18-64 working in health care settings where Covid-19 infection and risk of transmission is high. NNU, the largest and fastest-growing union of registered nurses in the nation, urges the Centers for Disease Control and Prevention (CDC) to go beyond the ACIP recommendations to include nurses and health care workers among those prioritized for boosters.
Nurses and other health care workers are at high risk for exposure to SARS-CoV-2, the virus that causes Covid-19. They have worked on the front lines and continue to do so, providing hands-on, direct care for the sickest Covid patients. Because of their high occupational exposure, health care workers need the highest level of protections to minimize their risk of infection and to prevent severe illness, death, and long-term impacts from Covid-19.
Today's ACIP recommendation concerning workers with occupational exposure runs contrary to a Food and Drug Administration (FDA) decision made just yesterday when the FDA issued an emergency use authorization (EUA) for the Pfizer-BioNTech Covid-19 vaccine to allow for use of a single booster dose for certain populations, including "individuals 18 through 64 years of age whose frequent institutional or occupational exposure to SARS-CoV-2 puts them at high risk of serious complications of Covid-19 including severe Covid-19."
"Nurses and other health care workers were among the first to be vaccinated because of their high risk of exposure to the virus," said NNU President Deborah Burger, RN. "Why leave them out of booster shots? Protecting health care workers is essential to protecting public health. It is unconscionable that ACIP would not vote to keep us safer from death, severe Covid, and long Covid. Leaving health care workers out is akin to early CDC guidance telling nurses that a bandana is sufficient protection while caring for a patient with Covid-19."
"We must do everything possible to ensure that the health of our nurses and other health care workers will not be put even more at risk," continued Burger. "Countless nurses and health care workers have contracted Covid and more than 4,200 health care workers have died of Covid. We strongly urge Dr. Walensky to include nurses, other health care workers, and others with occupational exposure in this booster shot decision."
Evidence indicates that Pfizer vaccine protection wanes four to five months after the second dose. In addition, the Delta variant poses a particularly significant threat, with its increased transmissibility and immune evasion. Enough evidence exists such that the Vaccines and Related Biological Products Advisory Committee, the FDA, and the ACIP all agree that action is needed to improve the protection afforded by vaccines.
This decision by ACIP shows the pattern of disregard by the health care industry and the CDC for the health and safety of nurses and other health care workers during this pandemic.
Meanwhile, employers continue to fail to provide the infection control measures necessary to protect health care workers. A multiple-measures approach is required: vaccines plus infection control plans including ventilation, testing and screening of patients, dedicated Covid units, optimal personal protective equipment, including respiratory protection against aerosol transmission, testing for health care workers including those already vaccinated, and more, as is required by the Occupational Safety and Health Administration Emergency Temporary Standard on Covid-19 for Healthcare. Regardless of government guidance, NNU urges health care employers to provide boosters to nurses and other health care workers.
Scientific data is clear that vaccines are effective at preventing severe illness, hospitalization, and death from Covid-19, including with the Delta variant. For more details click here.
National Nurses United is the country's largest and fastest-growing union and professional association of registered nurses, with more than 175,000 members nationwide.