Press Release
Nurses Condemn Trump Administration Attack On Public Safety in New CDC Testing Guidelines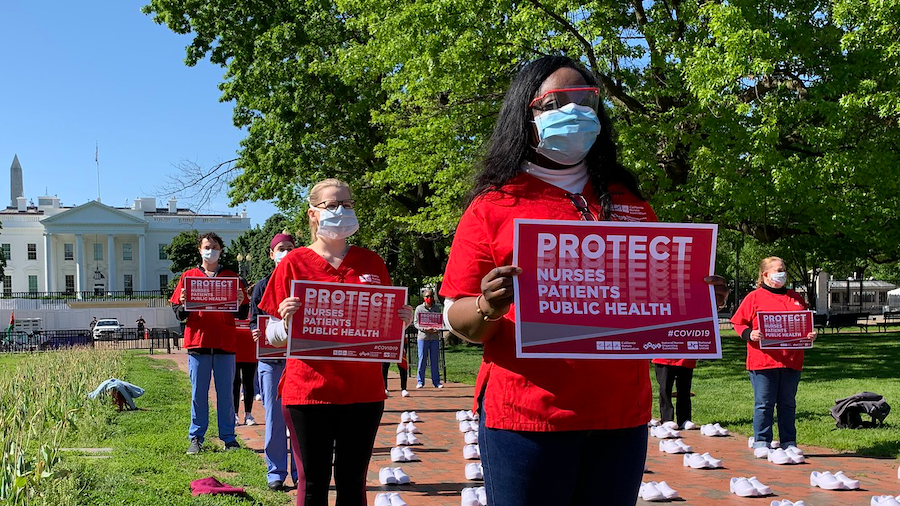 National Nurses United today condemned Trump administration directives to the Centers for Disease Control and Prevention to lower public safety standards on testing of people even when recently exposed to the coronavirus.

"With nearly 180,000 Americans now dead from our national failure to effectively confront and contain this dangerous pandemic, it is unconscionable to have our President corrupting public health and safety guidelines that are supposed to protect the public, not increase the virus' spread," said NNU President Zenei Cortez, RN.

As the New York Times reported today, the CDC "was instructed by higher-ups within the Trump administration to modify its coronavirus testing guidelines." One official, the Times reported, said the directive "came from the top down. Another said the guidelines were not written by the CDC but were imposed."

"As a nation, we should be shocked that public agencies that are supposed to be serving the public interest, whether it is regarding contagious disease epidemics, environmental protections, or workplace safety, have been defiled to meet the President's political or personal goals," said NNU President Deborah Burger, RN.

Under its new guidelines, the CDC recommends individuals exposed to the virus for at least 15 minutes "do not necessarily need a test" if they are not demonstrating symptoms, with exceptions for those who are "vulnerable," as in immune compromised, or recommended for testing by a physician or local guidelines.

"This recommendation deliberately ignores widespread scientific evidence of the role asymptomatic individuals play in transmission of the virus," noted NNU President Jean Ross, RN.

"Studies have documented," Ross said, "that 40 to 50 percent of transmissions likely come from asymptomatic and pre-symptomatic cases. That means that the CDC's new guidance will lead to less effective identification of infections, which will lead to increased transmission of this virus, and most likely even more deaths and long-term debilitating injuries."

"We have already seen how limiting testing to only symptomatic individuals does not work to reduce contagion," Cortez said. She noted that the CDC's initial guidance last winter limited testing to individuals meeting specific symptoms only. That was a significant contributor to "the massive failure of the Trump administration's response to the pandemic, particularly in lost time in identifying cases and preventing further transmission. And it has cost many lives." 

Prior actions by the CDC in rolling back guidelines have been used as "a pretext by many hospitals for failing to provide proper safety measures in the face of this crisis, including the highest level of personal protective equipment for nurses and other health care workers," said Cortez. It's a major reason, she said, why more than 1,500 health care workers, including nearly 200 RNs have died of COVID-19.

"As care providers for the sickest of patients, nurses and other healthcare workers must be prioritized for testing and contact tracing. The health and safety of nurses and healthcare workers is key to their patients' safety and to our communities' safety, especially in this pandemic," said Burger.

Just this week NNU filed a complaint with the federal Occupational Safety and Health Administration charging the nation's largest hospital system, HCA, with "willful violation" of workplace safety hazards, including the lack of testing of caregivers exposed to the virus which NNU warns "could reasonably be expected to cause death or serious physical harm."

"And now the CDC, at the direction of the Trump administration, is extending this malfeasance to all patients, and all individuals," Burger said.