Press Release
Nurses Condemn Texas Attorney General's Threat on El Paso Covid-19 Safety Measures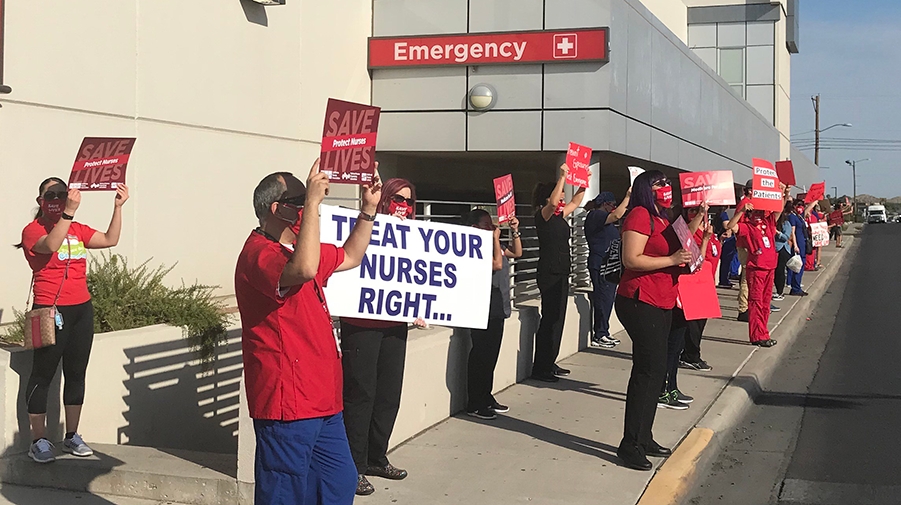 Call on Gov. Abbott to Direct Hospitals to Act
National Nurses United (NNU) today called on Texas Attorney General Ken Paxton to withdraw his threats against El Paso County officials for implementing stronger community safety measures as El Paso reels from an explosive and escalating Covid-19 threat.
 
NNU, the nation's largest nurses' union, which represents registered nurses at five El Paso hospitals, also urged Texas Gov. Greg Abbott to require all El Paso County hospitals and health facilities to strengthen their safety protocols as a matter of public policy to protect patients, nurses, and other health care workers.
 
In a letter to Paxton, copied to Gov. Abbott, NNU Executive Director Bonnie Castillo, RN condemned Paxton's "appalling and unconscionable" threat of exploring "all legal actions" aimed at reversing Judge Ricardo Samaniego's order to close non-essential businesses, an order designed to save lives during the crisis.
 
NNU also criticized El Paso Mayor Dee Margo's decision to defy the order by Judge Samaniego.
 
El Paso officials today reported the number of Covid-19 hospitalizations has mushroomed to 939 with 232 of the patients in intensive care, 132 on ventilators, and 10 deaths. That is more patients hospitalized, CBS Evening News reported last night, than are currently hospitalized with Covid-19 in 33 other states. 
 
Endorsing the increased community precautions, Castillo wrote,  "for our members who are literally putting their lives in jeopardy struggling to keep up with this crisis, we understand the critical importance of every step that is taken to reduce the spread of this virus that is putting all of us, our patients, our families, and our neighbors at risk."
The constitutional officers should "support this effort, not issue threats to derail and reverse it, increasing the disaster" the community faces, said Castillo.
 
Additionally, Castillo requested Gov. Abbott to require the hospitals to take a number of steps
as a matter of public policy, including: 
Test all emergency patients immediately; ensure separate triage and care areas for ER patients with symptoms of the virus.
Mandate pretesting of all non-emergency hospital patients. Ensure all hospitals establish separate and distinct areas to care for Covid-19 patients, separate from other patients who may have Covid-19, and from those who have been ruled out.
Ensure all health care facilities provide nurses and health care workers appropriate PPE including respirators at least as protective as a single use N95 filtering facepiece respirator, eye protection, and other appropriate gowns, health and shoe coverings, and medical grade gloves for every encounter with a Covid-19 positive patient or patient who could have Covid-19.
Provide rapid testing for health care workers where they work, both symptomatic and non-symptomatic staff. Any worker exposed to Covid-19 should be placed on a 14-day paid precautionary leave and tested at the end of that period. Provide presumptive eligibility compensation for all lost work time and medical costs for those who test Covid-19 positive.