Press Release
Nurses Condemn Impending Kavanaugh Confirmation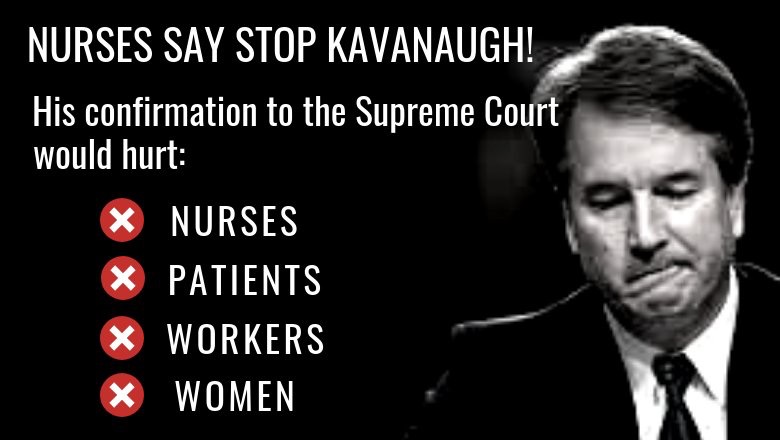 U.S. Senate Will Betray Women and Survivors of Sexual Assault by Confirming Judge Kavanaugh; 51 Senators Prepared to Turn Their Backs on Women, Workers, Immigrants, and Patients
National Nurses United, the largest union of registered nurses in the United States, strongly condemns the impending confirmation of Judge Brett Kavanaugh to the Supreme Court of the United States.
Co-Presidents Jean Ross, RN and Deborah Burger, RN issued the following statement:
"Registered nurses are outraged, as the U.S. Senate moves to confirm Judge Brett Kavanaugh's nomination to the Supreme Court., that a body of 51 elected officials, purportedly chosen to advance the will of the people, is instead preparing to send a clear message to women, sexual assault survivors and working people: We do not care about you.
Registered nurses see the health impacts of the trauma of sexual violence in our patients, and as a predominantly female profession, many of us are survivors ourselves. We condemn in the strongest terms the Senate's willingness to knowingly confirm a man who has been accused by multiple women of sexual misconduct and assault.
It's disturbing that Senators are moving to confirm Judge Kavanaugh despite numerous apparent falsehoods during his testimony under oath to the Judiciary Committee that should disqualify any nominee to the nation's highest court.
Kavanaugh's judicial record has shown a dangerous deference to corporations, the wealthy elite, and executive governmental authority. He has continuously disregarded the rights of workers, women, and immigrants. He has also demonstrated an atrocious disregard for the right to healthcare, and the need for women's access to necessary health care in particular.
There is still time. We implore every United States Senator to vote against this outrageous nomination. Confirming Brett Kavanaugh to the Supreme Court will be a dark stain on the history of the court, and the history of our country.
We encourage all Americans to continue to call their Senators, and engage in non-violent protest. Despite the commitments of 51 Senators to confirm Kavanaugh, it's not too late to exercise our political power in order to impact the outcome of this vote."