Press Release
Nurses Condemn Community Medical Center Long Beach for Hasty Move to Divert ER, Forcing Delay in Care for Patients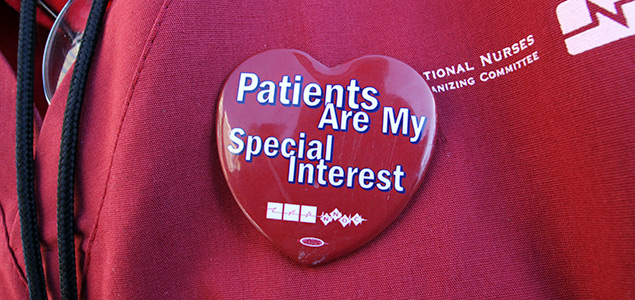 RNs: MemorialCare Treating Patients, Employees, Community with Contempt
Registered nurses are condemning the hasty decision by the MemorialCare Health System chain to begin an immediate emergency room diversion this week at Community Medical Center Long Beach well in advance of its plan to close the hospital. 
On Monday, MemorialCare, which operates CMC, has issued a 120-day termination notice under the excuse that it refuses to seismically retrofit the hospital, despite the fact that MemorialCare is one of the most profitable hospital systems in Southern California with more than enough resources to carry out the needed seismic upgrade.
On Wednesday, a mere 48 hours later, notice was sent to begin diverting all Emergency patients away from Community Medical Center to emergency rooms further away. This action serves to accelerate the closure of the hospital with no regard for the community or patient impact say RNs and the California Nurses Association/National Nurses United which represents them.
CNA charges MemorialCare with using the ER diversion as a cynical step to make the final closure of the hospital inevitable by reducing the vital services it offers. Instead of hastening a closure that poses a threat to the community, MemorialCare should be working with community residents and employees to retain essential hospital services at CMC, said CNA.
"MemorialCare still has at least a year to keep the hospital open under its own timetable," said Jackie McKay, a 33-year RN and Long Beach resident.
"MemorialCare had to know how this would hurt our community, patients and employees.  I live here, I work here and this is my community," said McKay. She also criticized CEO John Bishop for his disdain of the employees, patients, and community in how the hospital is escalating its unwarranted decision to close the hospital, hoping to make the closure a fait accompli.
CNA cited a number of ways in which the closure puts patients and the community at risk:
The nearest Emergency Room is several miles away. This would lead to delays in emergency care, with devastating consequences. Severe traffic conditions, common in the area, would make this bad situation much worse.
Other ER's would suffer from increased wait times as a result of diverting patients from CMC.
The beneficiary of this decision is the operator, as ambulances and patients would be diverted to Long Beach Memorial.
Management has excluded RNs from the process, refuses to bargain in good faith, and is discriminating against senior RNs.